When do you separate the art from the artist?
Analyzing the actions of the celebrities we support, and the weight our support carries
All too often, your favorite artist is in the news for all the wrong reasons. Whether it is alternative/indie artist Rex Orange County being charged with six counts of sexual assault or hip-hop and rap artist DaBaby making homophobic comments regarding HIV, AIDS and gay men, people are faced with a dilemma.  Should offensive behavior be pushed aside in favor of music, or should society cancel the artist? 
Of the current top 20 songs, 15 of the featured artists have been involved in some form of a scandal. That is a whopping 75% chance that your favorite artist is "problematic." Scandal simply seems to come with fame. These scandals vary in perceived severity — from Lizzo's use of a problematic word in her lyrics to Kanye West's antisemitic threats. Either way, absolutely none of your favorite artists being caught up in conflict does not seem to be realistic. 
When the inevitable happens, and favorite artists are in the news for a scandal, it is up to the listener to decide what to do with the information. Unfortunately, the decision to continue to support the artist can lead to perpetuating hate and normalizing inappropriate actions.
Fans' opinions on artists' problematic actions 
Hip-hop and rap artist Kanye West has an overwhelmingly complicated history. One of his most notable incidents was when he interrupted Taylor Swift's acceptance speech at the 2009 MTV Video Music Awards because he believed R&B artist Beyoncé, who was also up for the award, should have won instead. More recently, in October, West wore a "White Lives Matter" shirt at his Yeezy fashion show in Paris. The Anti-Defamation League described this phrase as a white supremacy slogan because it directly opposes the Black Lives Matter movement. He has also historically romanticized not taking his medicine for his bipolar diagnosis, which can have dangerous consequences, such as indirectly encouraging others not to medicate for their mental illnesses. 
Senior Alice Rasche has been a Kanye West fan since seventh grade. Despite loving his music, she doesn't identify with his actions.
"[I like] a lot of Kanye's older music. [His recent actions] have been a little concerning, but it is just Kanye. [Him saying problematic things] happens a lot," Rasche said. "I like his music in general. I don't pay attention to his actions or views."
Rasche also believes that there is a point when she would stop listening to West's music.
"I think if his music starts portraying some of his [problematic] ideas that might not settle well with me or other people, then I might be a [bit more hesitant] listening to his music," Rasche said. "For now, [while his music still does not reflect his problematic opinions], I think I can still listen to him."
Other Kanye fans, including a sophomore who has asked to remain anonymous, agree with West's actions wholeheartedly. This sophomore does not find any of West's recent actions offensive or problematic.
"I have been a Kanye fan for about six years. He is a genius — everything he does is exemplary, and he is the most influential [person]," an anonymous sophomore said. "The only thing I have disagreed with that he has done is changing his album name from 'Thank God for Drugs' to 'My Beautiful Dark Twisted Fantasy.' I support him as a person 100%."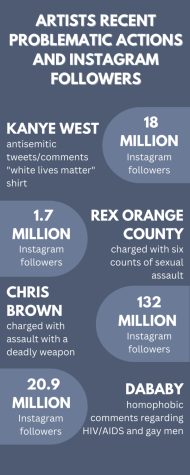 Another musician, Alexander O'Connor, who goes by the stage name Rex Orange County, was charged with six counts of sexual assault. Once a big fan, junior Talie Seers found herself reconsidering her support of him. 
"Before [his charges], I loved his music. You can connect to so many of his songs. I have seen people say that he helped them through a hard time with his passion for music and his [lyrics]," Seers said. "When I first heard [the news], I was so surprised because, with the words that he speaks in his music, I never would have thought he would [do] that."
Despite her disapproval of O'Connor's actions, Seers still believes listening to his music is acceptable.
"I won't lie; it is hard to listen to his music sometimes because of what he said and what he did," Seers said. "I feel like buying albums, going and putting money into his concerts or buying his merch is [too far], but I will still listen to [his music]."
Celebrity actions make an impact
It is easy to view celebrities as whole other beings — ones much more otherworldly and significant than yourself. However, celebrities — and their actions, good or bad — influence people more than one might think.
One important aspect of our lives — politics — has been proven to be influenced by celebrities. To give you an idea, a 2008 study by the University of Maryland found that over one million votes for Obama were due to Oprah endorsing him. Additionally, young voter registration increased exponentially when Taylor Swift urged her followers to vote in 2018. 
Besides politics, the influence of celebrities and the media has been heavily documented in drugs and alcohol. As proof, a 2009 study found that exposure to alcohol in movies is linked to teens' early onset drinking and binge drinking. This, combined with the documented celebrity influence on politics, proves that celebrity actions have a greater impact on regular people, making their actions public and all the more dangerous.
More recently, after Kanye's antisemitic actions, an antisemitic hate group called the Goyim Defense League hung a banner that read "Kanye is right about the Jews" over a Los Angeles overpass. In addition, members raised their arms in a Nazi salute behind the banner and held signs reading "honk if you know." While these antisemitic incidents may have already risen, Kanye's actions exacerbated this problem. They directly spurred this specific instance, further demonstrating the disastrous effects of celebrity words and actions on society.
Hate is a guaranteed aspect of our society, but these celebrities are at the forefront of our actions. Sure, this specific incident only happened once, but ignoring actions such as these could easily lead to a repeat of dark incidents in history. For example, today, many people say with much conviction that they would not let Hitler take power, but the public ultimately enabled his actions by doing nothing to shut them down. It may seem like quite a jump from supporting music artists to supporting a murderous dictator, but Hitler was once viewed as harmless.
With any public figure, whether a music artist or a political candidate, fan bases come with being in the public eye. Merriam-Webster defines a fan base as "a group of fans for a particular sport, musical group, celebrity, book or film franchise, etc." On the extreme end of the fan base spectrum, being a fan of a particular person or topic is often incorporated into the fan's life as a personality trait, leading to the unwavering support of the subject of their fandom.
Additionally, in 2016, when R&B artist Chris Brown faced an assault charge for allegedly threatening a woman with a gun, his fans immediately jumped to support him, some even going so far as to say his charge was racially motivated. 
One Twitter user tweeted, "#FreeBreezy Chris been staying out of the public just trying to take care of his daughter, and people still want to destroy him smh." 
As a result of celebrity influence and egos, fan bases often turn toxic, justifying things such as assault, insensitive comments and drug use and even performing some of these actions themselves, thus bringing society down. This is why people should be careful of who they support because if fans support the wrong person, they are aiding their toxic behaviors and thus excusing them.
So, where do we go from here? The problematic behavior of artists leaves a considerable dilemma for fans who have to choose whether or not they can continue listening to their favorite artists when problematic situations inevitably transpire.
Like all other life decisions, what the music fans decide to listen to says a lot about the listener. In supporting specific artists, listeners amplify their actions, which have been proven to significantly impact society. Ultimately, music choices are an extension of fans and their opinions. What do your music choices say about you?
View Comments(1)
Your donation will support the student journalists of Parkway West High School. Your contribution will allow us to purchase equipment and cover our annual website hosting costs.