Behind Ms. Understood
How senior Lexi Lutz turned a terrible event into a company that helps others
During her sophomore year, now senior Lexi Lutz had an experience where a boy took her power away. Since then, she has turned her pain into self-empowerment and innovatively pushes for women to do the same through her company Ms. Understood Apparel.
"I regret that I was afraid to speak up. I was embarrassed, and I isolated myself socially. I didn't tell anyone, and when I finally did two to three months later, it was too late," Lutz said. "He made me afraid to be myself. He made me feel so small. For the longest time, I was afraid of him, and then I switched my mindset."
Lutz, the Director of Communication and Brand Identity Design, created the company through Parkway Spark! Incubator. She works with CEO and Project Manager, senior Alina Sial and Social Media Manager, junior Jayden Blount, to advocate for the end of sexual assault. In 2022, they coined Ms. Understood Apparel to sell clothes and raise money for shelter donations. 
"One day, I realized I would never let him take away any more power from me than he already has, and that made me win in the situation. That was my justice," Lutz said. 
Ms. Understood chose Medusa as their logo because, in Greek mythology, Medusa was seen as a symbol of purity until she was sexually assaulted by Poseidon, corrupting her image. Because of this, Athena, the goddess of wisdom and military victory, punished Medusa by replacing her hair with the snakes we see her with today. The exact story is debated, but it also inspired Ms. Understood's design. 
"We incorporated misunderstood elements in our [hoodie] designs. So we use big cats, scorpions, snakes — things misunderstood or misinterpreted in society, and then we wear them as a symbol of empowerment, strength or protection," Lutz said. "Our outfits give an edgy vibe with a dark, boss aesthetic. We embrace the term [dark feminism] in this brand. It's the side that society tells you to suppress. And that's our whole thing: unapologetically being yourself."
The company's goal is to create a safe community with its apparel.  
"It would be amazing to see others wearing [the hoodie]," Lutz said. "It doesn't say anything about sexual assault on the hoodie so [that] people won't know, but it's just saying, 'I'm a supporter.' Because it's really scary to go out there and say, 'I was sexually assaulted,' or you might be embarrassed to admit it, or you want to support your friend. This is a confidential way to advocate your voice and show people they're not alone. If you go down the hallway and see someone wearing it, you know they're a safe person."
"
"Let the pain empower you," "
— Lexi Lutz
In addition to creating a community and safe space locally, Ms. Understood donates to the Program for Aid to Victims of Sexual Assault (PAVSA), a shelter located in South County, Mo., that helps and provides resources for sexual assault victims and a shelter in Pakistan. Because Sial is from Pakistan, finding the shelter there motivated her to help.
"Our brand has gotten inspiration from the women in Pakistan; their voices have been unheard, and they're not allowed to say anything about their sexual assault stories," Sial said. "With PAVSA, a lot of shelters in St. Louis either support the homeless or people who have been sex trafficked. I wanted to donate to a shelter that strictly supported sexual assault victims. It doesn't matter whether the victim is a woman or a man; everyone deserves support."
Regardless of their best efforts, there are not as many shelters for domestic abuse and sexual assault as homeless shelters, and the absence of awareness elicits an urge to help in Sial. 
"Sexual assault shelters are a very overlooked part of society, and people used to not care about them. I want to make them heard and support them," Sial said, "I feel donating something back home is going to be empowering for those females there."
Lutz has one message she wants to leave with her customers. 
"Society tells you: you're a girl. You're gonna want to be polite; you want to be nice; you want to be pretty; you want to be all these things. But you don't have to be what society wants you to be. You should be who you are unapologetically, and that is what [Sial] is. And I find that beautiful," Lutz said. "Don't be afraid to be a boss. Men can be bossy, right? So why shouldn't we? I want to be a boss. I want to be bossy. I want to boss people around. I'm gonna be who I am. And I'm a competitive, assertive, independent individual, and I'm not sorry. So that's what our brand is all about: empowerment."
View Comments (1)
Your donation will support the student journalists of Parkway West High School. Your contribution will allow us to purchase equipment and cover our annual website hosting costs.
About the Contributor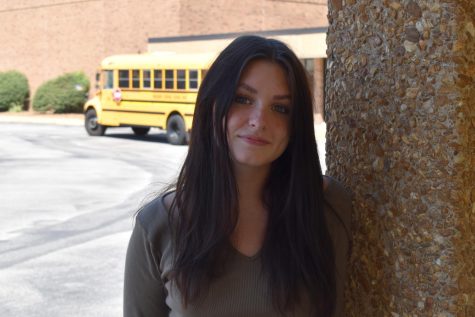 Claire Creely, Staff Writer
Pronouns: she/her

Grade: 11

Years on staff: 1

What was your favorite childhood TV show? Wild Kratts

What is your favorite book? behind closed...