Song of the [Green] Day
From Beethoven to The Beatles, music is a part of our nature; it connects us. But what about within the school walls, where more and more students rely on music and AirPods to get them through class?
For junior Mikalah Owens and English teacher Kaleb Schumer, music is the foundation of their bond. Owens began putting a song of the day on Schumer's whiteboard at the beginning of her second semester sophomore year, continuing the tradition to this day. Their song of the day tradition brought Schumer to attend Owens' National English Honors Society induction when her family couldn't make it. Owens witnessed Schumer's journey to becoming a father.
"My initial thoughts were, 'why [is she] wasting all of my marker ink?'," Schumer said. "I'm just kidding, [but] she brought markers to salvage the situation. Early on, [it was] an icebreaker way of getting to start conversations. When you start talking about music, it's easier to talk about other things, and that was a good routine we had."
When she returned to school after a summer break, Owens received her taped-off spot on Schumer's board as a space to keep the tradition alive.
"I was so late to school on the first day. I [came] in two minutes before the last bell rang, and I walked into [Schumer's] room teary-eyed. [I told him] that my summer sucked, and I couldn't do the song of the day," Owens said. "I went to his seventh hour classroom, and I noticed this big box [on the whiteboard]. He grabbed his laser pointer, pointed at me and the box on the board, and said, 'you have homework, Mikalah. What's the song of the day?'"
Owens keeps track of the music she puts on Schumer's whiteboard through Spotify playlists, with one for sophomore year and one for junior year. In terms of picking music, Owens sometimes listens to an album the night before school and suggests a song from it to Schumer in the morning. Other times, the two will create a plan by exchanging emails or mapping out the week to ensure the music selected.
"If it's a Monday, I walk in [his room and think], 'what's the vibe of the week?'," Owens said. "Normally [Schumer] chooses the theme because I'm indecisive. Then, we decide who's getting Monday, Wednesday, Friday, and Tuesday and Thursday. We look through our playlists for five minutes, and if I can't think of anything, he says a song. I'll make fun of him for it, [but] I'll write it down."
Occasionally, the two need help finding new music to put on the board.
"I'm running out of easy picks for the song. By year two, I have to dig deep into songs and musicians. We're having to try and find new music, which is a good thing ultimately," Schumer said.
Another challenge is their different tastes in music. Schumer's music taste consists primarily of alternative rock, while Owens' taste in music resides more in pop-punk.
"Nobody appreciates [punk] for what it is, as it's not just a genre of music, it's a movement," Owens said. "It's kids who feel alienated, and it's loud and messy, and I like that because that's how life is. There's a song on a [death of a person that] hit because I was the same age as [Armstrong] when that happened. When you're that young, you feel like you don't have anything. When you have that one person who's gone through what you've gone through, [it] sits with you."
Despite obstacles, Schumer and Owens built a friendship through the song of the day. In addition, Owens shares life updates while visiting him, covering her mental health, drama, new films and music.
"She doesn't accept the status quo," Schumer said. "In terms of my music and other things, if something's not okay, she will speak her mind about it. For better or worse, it can get her in trouble sometimes, but we're working on it."
View Comments (2)
Your donation will support the student journalists of Parkway West High School. Your contribution will allow us to purchase equipment and cover our annual website hosting costs.
About the Contributor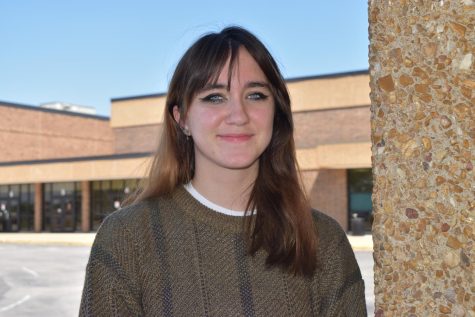 Kristen Skordos, Staff Writer
Pronouns: she/her

Grade: 11

Years on staff: 2

What was your favorite childhood TV show? Either spongebob or the office

What is your favorite...