The final draw: Administrators decide to update the art department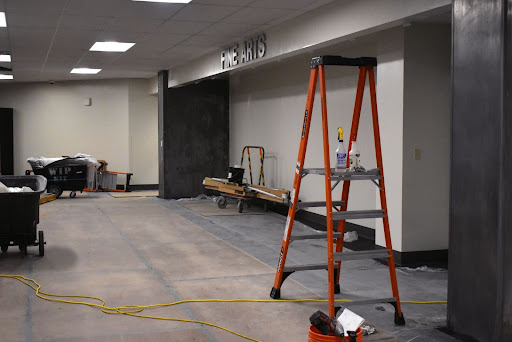 A shiny silver sign reading "Fine Arts" hangs over the glass display case at the entrance to the new art department. Just beyond the doorway, a charette, or place of congregation, leads into the contemporary art classrooms. Finally, after months of inspections, planning, meetings, construction and installations, students and staff are ready to settle into renovated art rooms.
For the project, Parkway hired McCarthy Building Companies Inc. and William Sales Partnership Limited (WSP) for the job, which began in March 2021.
"A lot of the key infrastructure was old and outdated. The classrooms didn't meet the needs and functions of today's teaching environment," WSP Lead Architect Jason Mayfield said. "Because of its overall age and quality of space, Parkway identified that it was due time to give it a facelift to meet today's teaching and student learning environment."
According to Art Department Leader Katy Mangrich, the department had not been updated since the school was built in 1968. In addition, safety concerns furthered the need for a renovation.
"It all started because my dark room had not been cleaned for about nine months. Everybody said it wasn't their responsibility, so it was never cleaned. The chemicals started building up on the counters and corroding the countertops. A few summers ago, there was black mold on one of my sandwich panels," Mangrich said. "We needed updated facilities like venting systems. There was not a proper venting system in the photography [dark room]. Legally, there should be a venting system above there because of all the chemicals processed in that room."
Inspectors came in soon after, and the project commenced. In addition to the art wing reconstruction, WSP converted the locker bay on the third floor into four new classrooms and replaced the gym's electrical gear, rooftop units and mechanical units.
"With every project at West High, in particular in the fine arts wing, [Parkway Design and Construction Department Project Manager and Planner] Martin Collier led us on a walk, and we discussed the basic scope of work," Mayfield said. "Then we met with Mangrich and really got a feel for what they needed, what was working in the existing fine arts wing and what needed lots of help, so we ran through that process. We call that 'concept of schematic design,' then we made sure we had all our T's crossed and met the needs of the department to give them the space they needed."
After consulting with art teachers and some students, construction began. Art department members began choosing finishes, floors, modular furniture and more.
"It's been a very long process. I have sat in so many meetings. Last year, it was something every single day that was dealing with visual design. I had a couple of times where I had to get a sub so I could sit in a meeting. We were meeting at specific times during plan periods, so lots of my actual time was taken away from school to plan for the renovation," Mangrich said.
The art wing closed and began construction at the end of May 2022. Art classes moved into the library, computer lab and journalism rooms during the last few weeks of school and the beginning of the current year.
"We [were] stationed in the library, and when you have classes like Ceramics, you can't really work with clay [there]. We [were] just talking about the projects that we're going to do because we can't really do them yet," junior Katherine Goodwin said.
Aside from the passing period traffic, overcrowded staircases and relocation of art classes, students and staff faced challenges due to the renovation. Because of the new ventilation systems and constant construction dust, there have been recent surprise fire drills throughout the school year so far. Teachers hope that the new space will compensate for the weeks of complications.
"I anticipate students feeling excited to be in the space. There will be a noticeable sort of shift in the energy there because it is going to be so new and lovely and everything will be fresh. I think it will be a positive change for everybody, and we're all going to be loving this space," art teacher Ashley Drissell said.
After many months of progress, the art wing is ready to open to students this week. Mangrich has reported there will be little to no change in curriculum, only that the space is safer, more organized and more fit to the needs of the department.
"It will entice more students to want to be in the art department," Mangrich said. "Anytime somebody sees something that's shiny and new, they want to do it, so I think it will help [increase] overall enrollment in the art program. Things will be newer, fresher and nicer. Before, the space was adapted to what we did in the department. [Now], the space is designed for our specific needs."
View Comments (5)
Your donation will support the student journalists of Parkway West High School. Your contribution will allow us to purchase equipment and cover our annual website hosting costs.
About the Contributors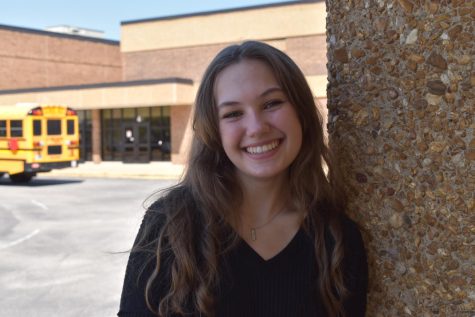 Emily Early, Features/Multimedia Editor
Pronouns: she/her

Grade: 11

Years on staff: 3

What was your favorite childhood TV show? I was a big fan of Tom and Jerry and Word World.

What...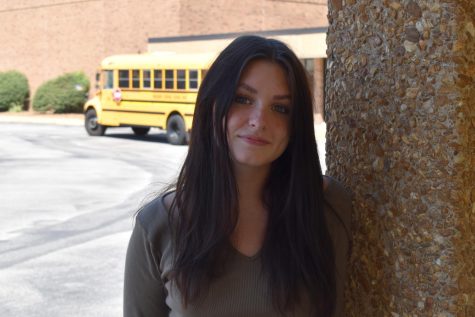 Claire Creely, Staff Writer
Pronouns: she/her

Grade: 11

Years on staff: 1

What was your favorite childhood TV show? Wild Kratts

What is your favorite book? behind closed...