Senior Micah Harris' journey to Louisiana State University
Senior Micah Harris' feet pound quickly on the track, a gust of wind hitting his face. Time rapidly passes as he approaches his last 50 meters. Finally, with a gush of relief, Harris crosses the finish line. 
Planning to run for the Louisiana State University (LSU) track and field team, Harris started running track during his freshman year at Kirkwood High School. 
"When I was younger, I used to play tag a lot, so I knew I was quick. From then, I decided to try out track. My biggest struggle was figuring out what I was good at because I had never run track before," Harris said. 
Back and hip injuries from performing long and triple jumps took Harris out of running track for three months his freshman year. 
"My main focus was staying in shape. I wanted to come back stronger rather than unconditioned. I'm getting back on track; I [have] a new motivation and new respect for running," Harris said. 
Junior year, Harris transferred to Parkway West from Kirkwood due to housing. Harris began breaking school records and personal records, such as 1:28:02 in the 4×2 and 43.27 seconds in the 4×1 with seniors Ja'marion Wayne and Tre Bell and junior Brian Cambell.
"I have about 50 medals that I've received from running track. [Winning is] a very accomplishing feeling. Winning feels good, and it makes me confident in what I'm doing," Harris said.  
Harris helps his teammates with form, block starts, and stretching. 
"I have a decent amount of knowledge in sprinting, and I try to help the team as well as I can. [The goal] is to not only better myself, but help my team better [themselves]," Harris said. 
Sprinter coach and ASC English teacher Kristen Witt looks for leadership within her runners throughout the season. 
"Micah is a true leader on the team who works hard during practice, before practice [and] after practice. There are a lot of things Micah does best. He is one of the first to go out and get his warmup done. He is solid in his block starts. He's solid in his effort, and he's solid when he's racing. He's a great example for everybody out there. [As he moves forward], I hope that he's continuing to put in the same work ethic," Witt said.
Harris's inspiration is American professional track and field sprinter Christian Coleman.
"Watching his perfect technique, work ethic and presence on social media inspire me. I'm still growing as a runner, so I'm never really disappointed in myself, even if I don't perform to the best of my ability. [Instead,] I use it as an opportunity to grow and use that as an experience rather than a loss," Harris said. 
Harris anticipates exceeding his goals rather than doing the bare minimum. 
"I like to win. So I put a lot of time and effort into practice and during my own time. I've watched a lot of films, so I have more sprint knowledge than most of my competitors. I enjoy running track. It's a tiring sport, but it's stress-relieving," Harris said. 
Harris chose LSU as the number one pick for college for its inexpensive schooling and Division 1 sports system. 
"Track is my life. I feel [LSU competition] will give me the opportunity to go beyond my abilities currently," Harris said. "The quality of people that I ran with was definitely the best part. Everyone worked extremely hard even when we didn't feel well about our performance, or the weather was not so great. But, we all still showed up and tried to be better. I appreciate the experience high school track and field has given me, and I'm ready to see [where] LSU takes me from here."
Leave a Comment
Your donation will support the student journalists of Parkway West High School. Your contribution will allow us to purchase equipment and cover our annual website hosting costs.
About the Contributor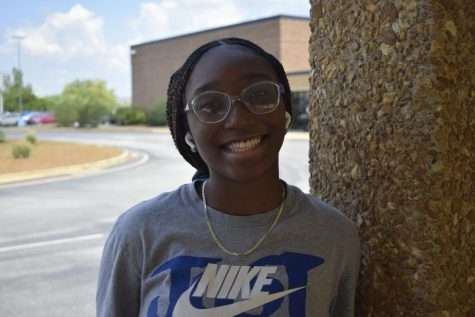 Samari Sanders, Staff Writer
Pronouns: she/her

Grade: 11

Years on staff: 2

What was your favorite childhood TV show? My favorite childhood TV shows were "Doc Mcstuffins"...