Flavors galore: Oreo taste test and ranking
Oreos have been around since 1912, yet they have incorporated over 50 new flavors. I was up for the taste-testing challenge and began my journey exploring the following six flavors:
Original

Birthday cake

Peanut Butter

Mint

Caramel Coconut

Toffee Crunch
I rated the Oreos on a scale of 1-10, with 1 being disappointing and 10 being delightful.
Scoring guide
Through the Execution and Taste (ET) rating system, each Oreo can earn up to 20 points, with a maximum of 10 in each category.
EXECUTION: How well does the description of the Oreo match its name and your expectations?
TASTE:  This category assesses if there is an appropriate balance of flavor and if it is pleasing to the taste buds. To what extent do you want to eat more?
Original
Scoring:
Taste: 8/10 
Execution: 6/10
The Original Oreo is a classic, an excellent fallback Oreo that fits every occasion. This delicious cookie is not too sweet and not too bland. You can never go wrong with this go-to snack. However, I'd like to see this dessert sandwich host a better cream to cookie ratio. There are so many Original types; there are Double Stuf, Mega Stuf, Thins and Gluten Free.
Birthday Cake
Scoring:
Taste: 4/10 
Execution: 5/10
The Oreo Birthday Cake was deceiving. At first, it tasted like a regular Oreo, but the festive and rainbow-speckled cream added a little extra sweetness to this cookie. The cream of this Oreo reminded me of a birthday cake, but less cake and more frosting. 
If you prefer frosting to the cake and love all the sugar then this is your choice. However, the cream filling was too sweet for me. Presentation-wise, I'd prefer a golden cookie flavor that resembles a yellow cake for a Birthday Cake vibe.
Peanut Butter
Scoring:
Taste: 5/10 
Execution 7/10 
As a fan of peanut butter and Oreos, these taste like an off-brand Nutter Butter. It was a weird concoction that tasted nothing like you would expect. This cookie was not as sweet as the Original but more savory. It has an interesting flavor. 
If you are searching for a sweet treat, this is not the way to go. The cream was too thick. I would have enjoyed this cookie more if paired with the Original Oreo cream center versus the current peanut buttercream.
Mint
Scoring:
Taste: 10/10 
Execution: 9/10
This cookie surprised me at first. The Mint Oreo reminded me of the end of February when an elementary school girl delivered our family's beloved Thin Mint cookie. It had the perfect ratio of mint cream to chocolate cookies. It was refreshingly sweet and lived up to my expectations. The Mint flavored Oreo is an ideal representation of the picture on the packaging.
Caramel Coconut
Scoring:
Taste: 7/10 
Execution: 8/10
The most surprising cookie was the Caramel Coconut. This strange but satisfying blend of flavors reminded me of a Girl Scout Samoas cookie. There was a nice balance of coconut and caramel. It tastes like something your grandmother would bring to a family gathering. This delicious cookie brings me nostalgia. This is the most underrated flavor and deserves some more attention.
Toffee Crunch
Scoring:
Taste: 8/10 
Execution: 8/10
Toffee Crunch was the most interesting flavor. While some of the other cookies remind me of other cookie-like confections, this one reminds me of a Heath bar. This cookie combines an unusual choice of flavor that I would only choose on a special occasion. It's a flavor where one cookie goes a long way; too many will ruin the taste. Another unique thing about this cookie is the tiny toffee pieces inside that surprised me but in a good way. This is a fantastic flavor if you have a sweet tooth like me.
Final scores range from 0 (try at your own risk) to 20 (you must try):
Mint: 19/20

Toffee Crunch: 16/20 

Caramel coconut: 15/20

Original: 14/20

Peanut Butter: 12/20

Birthday Cake: 9/20
Which flavor would you try?
Sorry, there was an error loading this poll.
Leave a Comment
Your donation will support the student journalists of Parkway West High School. Your contribution will allow us to purchase equipment and cover our annual website hosting costs.
About the Contributor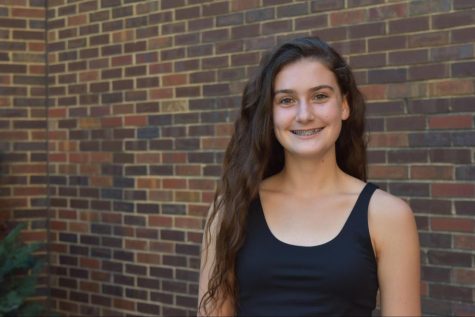 Ava Griswold, CJ1 Writer
Pronouns: she/her

I am a freshman and this is my first year on staff. When I'm not at school I dance at studio Dance Art and on the varsity dance team...