Road to the 2022 NFL Draft
Alumnus Drew Seers' journey to training for the upcoming NFL Draft
Less than 2% of college athletes get drafted into the National Football League (NFL). However, alumni Drew Seers is determined to be a part of that percentage. 
From Friday Night Lights to running drills in Miami, Fla., for the upcoming NFL draft in a few months, Seers has known that football is his passion since the fifth grade. The now 23-year-old started as a junior Longhorn. Seers has played football for 13 years, and one of his biggest inspirations is his dad and former West football coach, Andy Seers. 
"My dad always inspired me growing up. He played football for a while in college, which is why I started liking football at a young age. His constant support and teaching me how to handle hard times has helped me in football and life. He continues to inspire me to this day," Seers said. "For some reason, I've always been drawn toward football. That was always the sport I wanted to play. I was very aggressive as a kid, and I liked to hit people, so football was the perfect place to combine those two things. Once I started playing, it felt natural, and I fell in love with the game."
Seers' older brother Jake was previously part of the football team, giving Seers a sneak peek into the team before his freshman year. However, before Seers was allowed to play football, he was the ball boy for Jake's middle school team. Game after game, he knew football was something he wanted to pursue after high school. 
"I've always had a dream of playing college football. After having some success in high school, I saw that it would become a reality to play college football. I knew that I didn't want the typical college experience of partying and joining a fraternity," Seers said. "I probably wouldn't have gone to college if it wasn't for football. Football [has] kept me disciplined throughout my life and motivated me to better myself in every aspect."
Seers' high school career allowed him to play football and gave him the chance to meet one coach who changed his perspective on more than just the game.
"[Head football] coach [Jeff]  Duncan influenced me in ways that go far beyond football. He taught me how to be a man and treat people right. He taught me to be a good teammate, brother and son. He doesn't just coach football; he molds kids into young men. I was extremely fortunate to play for that man for four years. I wish I could go back and play for him again because I miss it," Seers said. 
Seers stood out to Duncan on the field. In his 24 years of coaching, he believes Seers was one of the best athletes he has ever coached. 
"Great players who are also great kids are easy to coach — Drew Seers was that young man. Drew was a wonderful leader who continued to get better every year.  By the time he was a senior, he was our best player on Friday nights, but he was also the best player and the hardest worker in practice every day," Duncan said. "Drew had the ability to play any position on the field.  He played sideline to sideline on defense, making big play after big play.  When we needed a big play on offense, the ball was always in his hands. He was truly an all-around great player. "
Before graduating from high school in 2017, Seers signed to Lindenwood University after getting recruited for their football team. Like most kids, Seers wanted to go Division I though he did not have the size coming out of high school. Instead, Seers received attention from the Division II level and realized that it was still great football. He waited until after national signing day before picking a team because he wanted to weigh his options. Seers' final training days are coming around the corner, and he is starting his countdown to the pro days. 
"In high school, Coach Duncan did a great job getting my name out there and helped me get recruited. I decided to sign with Lindenwood University at the end of February, and it was one of the best decisions I've ever made. I was elated and happy to be around a God-fearing coaching staff that would help me on the field and develop further as a man," Seers said. "If I could go back in time, I would 100% choose to go to Lindenwood again."
After graduating from Lindenwood in December 2021 with a degree in entrepreneurial studies, one of Seers' coaches from Lindenwood connected him with a man who owned a training facility in Miami, Fla. Seers found out he would train in Florida on New Year's Eve and left three days later.
"Training in Florida was a great experience. It was my first long period being far away from home, so I enjoyed being on my own. The training was a lot of work, but I enjoyed [it]. I grew mentally and physically. Overcoming adversity and staying focused was a big part of my journey down there," Seers said.  
Seers finished his pro day Friday, March 30, where they tested him for the 40-yard dash, vertical jump, bench press and more. This process is known as the interview for the NFL.
"It's a waiting game until the draft. I'm training and progressing, hoping to find a way to get on a team. I'm not a projected draft pick, so I'm hoping I'll get a call and get invited to a rookie camp once the draft is concluded," Seers said. "I couldn't care less what team I'd be able to play for, it would just be cool to be on a team."
Leave a Comment
Your donation will support the student journalists of Parkway West High School. Your contribution will allow us to purchase equipment and cover our annual website hosting costs.
About the Contributor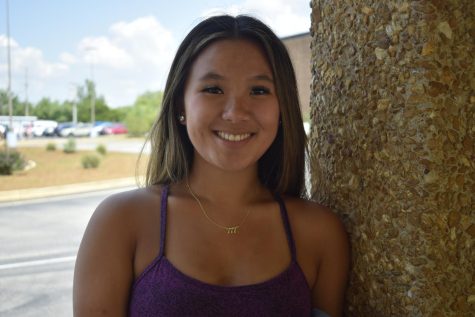 Lia Emry, Staff Writer
Pronouns: she/her

Grade: 11

Years on staff: 2

What was your favorite childhood TV show? I carly

What is your favorite book? I don't know...