Close to home: how the Ukrainian-Russian War impacts us
The sky is gray. A few cars are parked on the edge of a dusty road on the Polish-Ukrainian border. Carefully cradling a child swathed in blankets, a small family of Ukrainian refugees prepares to board a bus after being chased from their home.
Far from Eastern Europe, freshman Sarah Melnyk's* "For You" page has been filled with TikToks about the Russian-Ukrainian conflict. But despite the 5,319 miles between her and Kyiv, Ukraine, the violence feels closer than ever. 
"My friend Elena* is Ukrainian. Our parents were really good friends when they moved here, so I've known her since birth—she's practically my sister. I call her every single night and talk to her every single day. I know there's always conflict in the world, but this just feels different," Melnyk said.
Just before dawn on Feb. 24, Russian President Vladimir Putin launched an attack on Ukraine. According to the United Nations, at least 2900 civilian casualties occurred during the war, including children caught in crossfire and bombings. Both Melnyk and Elena have families living in Ukraine who are in danger as Russia continues its invasion. 
"All of Elena's cousins and grandparents and some of my family on my dad's side are in Ukraine. My dad's cousin is a military officer in Kyiv right now. We are all pretty afraid," Melnyk said. "Then again, this is not very new. A couple of years ago, there was a bombing in Ukraine. But it's a little scarier and more intense this time around." 
Both external and internal pushback against Putin has surged as the war continues. In Russia, over 13,000 anti-war protestors have been arrested. Students like senior Faith Reusch reflected on her background and connections with the conflict.
"No one wants to be part of a war, so hearing stuff on the news or social media is a big struggle because I was born in Russia. I'm glad I have the chance to be here and go to school here instead," Reusch said.
Despite her birthplace, Reusch supports the Ukrainian people. 
"I would tell the Ukrainian people to keep hope. I believe Ukraine should keep trying to voice their side of the conflict [and] be prepared to take any measures that they would need to to protect themselves," Reusch said.
As Russia continues missile and rocket strikes in Ukraine, including on civilian populations, many Ukrainians have fled cities and lost their homes. Elena's family is moving into an apartment in Russia in case the conflict worsens, and they lose their travel visa. Over two million Ukrainians are seeking refuge in Ukraine's other neighboring countries like Poland, Hungary, Romania, Moldova and Slovakia. 
"
I could go on spring break and not check the news and live my life and act as though nothing bad was happening. That's part of not being directly involved. But it's important to be aware of bad stuff happening in the world, and talking about it and bringing awareness to my students makes me feel better."
— social studies teacher Kristen Collins
"I have family and friends living in Hungary and Romania, and my father is currently in Germany. Watching the news has been nerve-wracking for me," senior Anna Csiki-Fejer said. "At a time when people may feel disconnected from a conflict thousands of miles away, the ability to support through donating, raising awareness, or staying informed isn't restricted by distance."
Although some performative activists have used the Ukrainian-Russian war for personal gain, others such as sophomore David Hawiger have decided to take action instead.
"My grandparents are in Poland, and I'm worried about what could happen to them if Russia continues its invasion. Last summer, I visited Polish cities like Katowice and Krakow that are now filled with refugees. To help out, my parents and I donated food to Ukrainians in Poland," Hawiger said.
Personally, history teacher Kristen Collins and her family have also been helping with the refugee effort. 
"My fiance is from Poland, and he has family about 40 miles away from the Ukrainian border. He knows some Ukrainians because he'd been to Ukraine many times when he was a kid," Collins said. "Through social media, he has stayed in touch with people and set up places for Ukrainians refugees to stay with his cousins and family."
Like many of her students, history teacher Kristen Collins reflected on the detachment between her own life and the Ukrainian-Russian war.
"I could go on spring break and not check the news and live my life and act as though nothing bad was happening. That's part of not being directly involved. But it's important to be aware of bad stuff happening in the world, and talking about it and bringing awareness to my students makes me feel better," Collins said.
Like Collins, Csiki-Fejer hopes to educate more people about the ramifications of the Ukrainian-Russian war.
"I could not imagine how I would feel if they were in the situation that so many Ukrainians have found themselves in, [but] it's crucial to remember that the effects of this conflict have impacts around the globe. We all hope for the safety for the people of Ukraine," Csiki-Fejer said.
Melnyk, for her part, hopes to send a message of hope to her friends and relatives in Ukraine. 
"When there was conflict a couple years ago, Elena was younger and more emotional. She was really worried about it then, so I know she is worried about it now. I don't want her to be scared because I know her family will be fine. I wish I could tell Elena and the people of Ukraine that I care for them. We'll get through it," Melnyk said.
If you would like to help, a couple of charities accepting donations for Ukraine are listed below:
World Vision – Ukraine Crisis Fund
Save the Children – Children's Emergency Fund
International Committee of the Red Cross
*To respect the anonymity of the sources, we have changed their names by request.
View Comments (1)
Your donation will support the student journalists of Parkway West High School. Your contribution will allow us to purchase equipment and cover our annual website hosting costs.
About the Contributor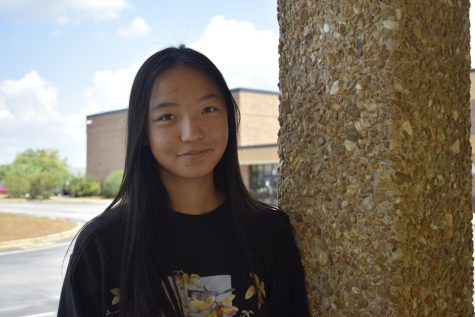 Serena Liu, News/Sports Editor
Pronouns: she/her

Grade: 11

Years on staff: 2

What was your favorite childhood TV show? Wild Kratts

What is your favorite book? The Joy...