The journey home: junior Shaleigh Araya's adoption story
Bones ache from sleeping on the hard street, stomachs growl from lack of food and cars honk as they pass by the six and 8-year-old Sayle —now Araya — siblings. Cold days turn into even colder nights, and uncalled-for independence from the absence of adults in their lives is a constant. 
Due to her biological mother's substance abuse and her father's absence, junior Shaleigh Araya spent her childhood bouncing between living with her mother's friends, group homes, and foster families. She even spent a brief period living on the streets with her brother.
"There was a lot of darkness in my life before I was adopted," Araya said. "[My life] was normal for me at the time, but looking back, I can tell that's not what a family environment is supposed to be. I had never even seen a Christmas tree until [I was 11-years-old]."
At six, Araya's biological mom left her and her brother, LeBron, now 19, entirely by themselves. The only consistent assistance that they received was from the Salvation Army.
"[My brother LeBron] and I were on the streets for a while. My brother just took care of me," Araya said. "[LeBron] would go find our meals, and my mother was just in and out. I don't remember it well because I was young, but it was pretty bad."
Araya and her brother eventually found shelter in her mother's friend's home, but the situation was still not optimal. The siblings were in a vulnerable position with no genuine assistance or parental figures, and their circumstances led Lebron to suffer abuse and Araya to suffer emotional abuse.
"[For a while] I bounced back and forth between my biological mom's friends. It wasn't [ideal], but it was fine," Araya said. "Being a young female helped because I never got physically abused, but I suffered emotional abuse that has carried over even to this day."
At seven, Araya and LeBron were dropped off at a temporary shelter called Children's Haven, a shelter for children experiencing a "family crisis." The shelter provided housing, food and transportation to school, among other things, for the Araya children.
"[LeBron and] I were dropped off at a group home called Children's Haven by my biological mom. You could just drop off your kids there, and they would take care of them," Araya said. "I only [had] a trash bag with some clothes [with me]."
Araya's physical education teacher found out about her and her brother's living situation at Children's Haven in 2012 and ended up fostering the siblings. After their teacher had fostered them, they were placed with a different family, the Arayas, and adopted Jan. 19, 2016. Araya attributes much of her success to her family and faith.
"My family [the Arayas] and the space that they created is a very safe space," Araya said. "[My parents] are super supportive, and they're constantly pushing me to do better things."
While Araya believes that she cannot simply "move past" her background, she accepts her trauma as a part of her life and takes measures, like years of therapy, to become successful.
"I have seen the mistakes that my biological family has made, and I just try to avoid them because I don't want to end up like them," Araya said. "I think something super important that I've learned is that your past does not have to define or shape you. Remember to keep pushing forward and not [get stuck] in the past. [Instead], look forward to the things that you can become."
View Comments (1)
Your donation will support the student journalists of Parkway West High School. Your contribution will allow us to purchase equipment and cover our annual website hosting costs.
About the Contributor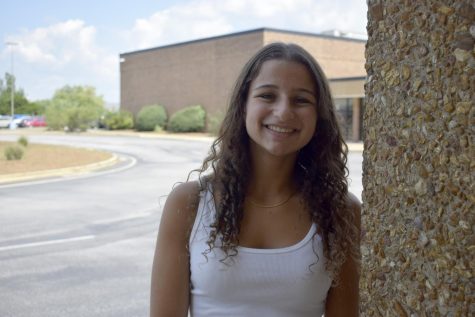 Katie Wallace, Staff Writer
Pronouns: she/her

Grade: 11

Years on staff: 3

What was your favorite childhood TV show? Jessie, Victorious, Shake it Up - all of the classics

What...