Financial decisions lead senior Shannon Dobson down an alternative path after high school
Hearts race with anticipation annually, as seniors' fate is handed down to them through the click of an email with three words, "You've been accepted" or "You've been denied." Senior Shannon Dobson has her sights set on a different future. Come spring, she will prepare for recruitment into the United States Coast Guard.
Dobson looked into programs offered by the Coast Guard in an effort to fund her college education, two of these programs being the Post 9/11 GI Bill and the Coast Guard Academy. Covering tuition for public colleges and universities, the GI Bill helps active military and veterans pay for their college educations and gives potential students an incentive to join the military. Similarly, the Coast Guard Academy offers students a free college education while also preparing them for a career in the Guard.
"Blowing a bunch of money on a big university just to change my major halfway through would be a terrible financial decision [for me]. As a white girl in suburbia in a very well-off school, I don't think I've experienced the 'real world.' I feel like I've been sheltered a bit, and I want to go into adulthood without my parents [needing] to help me take out loans. I want to do something a little different," Dobson said. "For what they don't pay, I'll be able to qualify for veteran's loans. I can [also] say I'm a veteran on my application. It's an investment that will take me through life," Dobson said.
Dobson also hopes to achieve personal growth through her choice. During their service, members of the Coast Guard undergo boot camp, an eight-week introductory course consisting of physical training. 
"I'm not much of a group player and relying on other people is a large part of boot camp. [Boot camp is about] teamwork in life or death situations [such as] fire prevention, safety and shooting ranges. You have to rely on a team to get you through that. I don't want to have to rely on people, but that's also something that I want to get better at. Joining such a close-knit environment would be good for me and help me learn to rely on other people to get me through things," Dobson said.
Another draw for Dobson was the opportunity to gain further experience in specialty fields. During their service, members of the Coast Guard can specialize in career fields such as aviation, marine safety and engineering.
"If I end up going into [a career] through the Coast Guard I can choose to stay in the Coast Guard or I can pursue that [specialty] outside of the military and have that training on my resume," Dobson said.
Dobson is also looking forward to gaining real world experience. As a member of the Coast Guard, Dobson will face reassignment every two to four years allowing her to travel.
"I want to be in a coastal state or stationed in a foreign country. I don't want to be in another Midwestern landlocked state. That'd be my worst fear, and it is a real fear because they have a Coast Guard division in St. Louis for the rivers. I want to go somewhere I haven't been before. I've been to the beach on vacation, but that's pretty much it. I was born, bred and raised in St. Louis, so I want to go somewhere else and live there for a while," Dobson said.
Apart from finances and personal and career growth, a large influence on Dobson's decision was her family's military involvement. With experience in the Marines, Army and Air Force, Dobson feels her family has helped her to prepare for the reality of military service.
"I feel like if I went to some parents that weren't military, they'd be like, 'that sounds so good. They'll pay for your college. It'll be amazing.' But my family doesn't sugarcoat it for me. They know it's a good financial decision and good for [my] future, but it's [also] going to be difficult. They ask me, 'are you ready for that? And if you aren't, we won't be mad at you.' I'd rather just bite the bullet and do what I can to invest in my future," Dobson said.
View Comments (1)
Your donation will support the student journalists of Parkway West High School. Your contribution will allow us to purchase equipment and cover our annual website hosting costs.
About the Contributor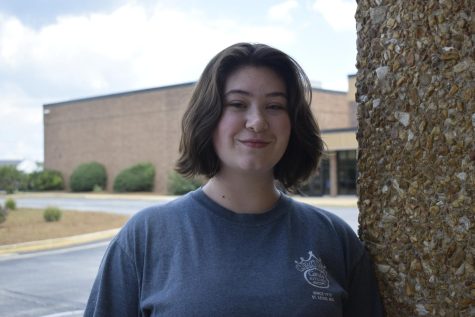 Madi Michajliczenko, Conceptual Editor-in-Chief
Pronouns: she/her

Grade: 12

Years on staff: 4

What was your favorite childhood TV show? The Backyardigans, specifically the pirate episode

What...