Meet our winter warriors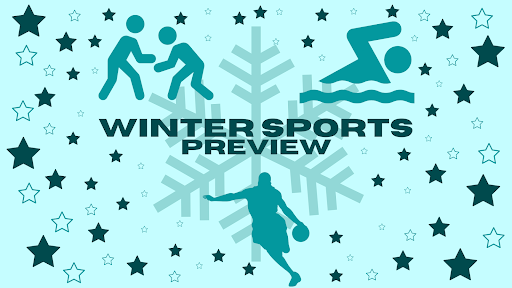 After experiencing a season played in the midst of a pandemic, the winter sports teams are ready to play with some normalcy. Here is what you can expect to see from them this season.
Boys Basketball 
After a shocking loss in the first round of districts last season, the varsity boys basketball team looks to improve on a 16-7 record last season. 
"This year is a year that we have a lot of optimism. We have three guys that started last year and are returning, we have five guys that earned significant playing time last year, and I think those are the years that you really have a chance to do something special," Head coach John Wright said.
Returning starter and junior forward Brady Kuehl preps for his second varsity season.
"I don't think there's any reason we don't win our district. Coming out of last season there was a lot of frustration on how we ended, and I think that's kinda fueled us to come back even stronger," Kuehl said. "The only thing that could hold us back is ourselves."
The team has three seniors returning, including forward Luke Wright, center Ja'marion Wayne and guard Tre Bell.
"Our key to success is our senior leadership. I think when you have a group of seniors that are committed and have one last chance to accomplish something special together, that's hard to duplicate. We have a group that has the potential," Wright said. "I think the trust that our team builds together, the camaraderie and the determination that we show on the court is gonna be huge to see how far we can go."
The Longhorns open their season against rivals Parkway Central, Parkway South and Parkway North.
"Obviously I always look forward to games against [our rivals], [because] they have great energy and are very fun to play, but honestly I'm looking forward to every game," Kuehl said. "Every time I step on the court I'm so hyped and ready to go."
Spectators only get to see what happens on the court, but according to Kuehl, the memories behind the scenes are what build the team.
"I think my favorite part about being on the team is the guys. I feel like we all get along very well and practice would be nowhere near as fun without them. We are always laughing and I think that correlates to a lot of the team's success on the court," Kuehl said.
Wrestling 
After being the first woman in school history to win a wrestling state title, senior Paige Wehrmeister wants to defend her state title to become a two-time champ.
"
My biggest competition is myself; I critique a lot and come down hard on myself when I feel like I've made a mistake, but it makes me better."
— Paige Wehrmeister
"Walking in [to tryouts] my freshman year, my goal was to qualify for state by my senior year, so to even be called defending state champion feels kinda surreal," Wehrmeister said. "I'm just so grateful for this opportunity to wrestle and I am excited for this upcoming season."
Wehrmeister looks forward to wrestling in the Wonder Women tournament, a premier wrestling event during Christmas break in Columbia, Mo.
"There will be teams there from in and out of the state, so I'm hoping that I get some challenging matches," Wehrmeister said. "[But] my biggest competition is myself; I critique a lot and come down hard on myself when I feel like I've made a mistake, but it makes me better." 
Head wrestling coach Ezekiel Allison's goals include becoming conference champions. 
"Our goal for both teams is to have a competitive nature and to always be fighting to be near the top.  We always go into each season wanting to be a state champion, to be district champs and conference champs.  Which is very easy to say, and harder to actually achieve," Allison said. "The great thing about wrestling is that it is a team sport as well as an individual sport., and you can have success either way."
Allison expects a strong year not just from Wehrmeister, but also from his boys in the wrestling program, with juniors Jaydon Woodall, Aaron DeBlasi and Mason Jensen and sophomore Liam O'Brien leading the way.
"We have a good core of boys returning that we believe can help lead our team to success," Allison said. "If we are going to be successful this year, it all starts with our work ethic in the practice room.  We need our leaders to set the tone every day and pave the way for our younger wrestlers and show them the correct way to practice.
Girls Basketball
Starting the season with new head coach Brett Katz, the girls varsity basketball team looks to improve on the 7-13 record. Katz is optimistic about his opportunity to coach, after former coach Scott Wiseman stepped down from coaching. 
"[The coaching change has] been a great adjustment. It makes it easier when we have great kids that are very coachable. I truly believe that this group of kids really wants to experience success on the basketball court and they are practicing that way," Katz said. "When a coach has coachable kids that are working very hard, the adjustment is usually smooth. I wasn't really sure what to expect, but all of the kids and the families have been very welcoming." 
Entering her third year as a varsity starter, senior and guard Abbie Zensen looks to make an impact this season.
"A big goal for me is to make sure we play as a team and that everyone feels like they have a place," Zensen said. "Another big thing is to try and have a winning season. We haven't been very successful in the past so I think with a new coach coming in it is important to start with a winning season for him."
With the team not having a size advantage over other teams, the girls will rely on a fast-paced offense to be successful.
"
We have a lot of speed on our team so our coach has told us that our foot needs to be on the gas pedal at all times. Our strategy in the past has always been slower paced, so I think us making this change to try and implement a faster pace game will make a big difference."
— Abbie Zensen
"We have a lot of speed on our team so our coach has told us that our foot needs to be on the gas pedal at all times. Our strategy in the past has always been slower paced, so I think us making this change to try and implement a faster pace game will make a big difference," Zensen said. 
Katz believes his coaching style will be a change, so he seeks to help the girls adjust easily with focus and determination. 
"I really want my players to think that the guy coaching them really cares about them, not just as a basketball player, but as a person. I want them to think that I am doing everything that I can to help me be successful on the court and off the court. I want them to think that I helped make their high school experience a better one," Katz said.
Girls Swim & Dive
Coming off a season where they finished second overall in the state, the girls swim and dive team looks to improve through relay teams and win a state championship.
"[Winning state] will be the ultimate goal, so we will need more girls to qualify in as many events as they can," Head coach Coleen Sumner said. "[Relay] points are worth double the amount of individual events. We have most of our team returning, looking stronger and faster, we hope to build on that."
Senior Megan VanValkenburgh was a part of the state team last season, and she hopes to make a push for a team win at state this season.
"Last year we placed second behind Cor Jesu, which was a tough team to beat. They have amazing swimmers and depth on their team," Vanvalkenburg said. "But we are always looking for ways to improve and coach Sumner is always looking to give us the best chance at scoring the most points. That's what we are looking to do again this year."
The girls will have to overcome adversity during a season with a lot of breaks. 
"The biggest hurdle in the girls' season is all the breaks and time off school. We practice through Thanksgiving, winter and holidays," Sumner said. "We ask for a big commitment that time taken off is kept to a minimum so we can continue to train. Obviously, injuries and illnesses can hold us back as well. This team is very dedicated and for the most part try to keep travels to only those that are necessary."
As the girls prepare for their season, VanValkenburg looks forward to building team camaraderie. 
"The time I spend and relationships I get with the girls, getting through the rough sets and early morning practices are always better when you have teammates motivating you," VanValkenburg said. "The meets are always fun too, especially home meets, it always gets us super hype and excited to race."
Team Schedules:
Leave a Comment
Your donation will support the student journalists of Parkway West High School. Your contribution will allow us to purchase equipment and cover our annual website hosting costs.
About the Contributor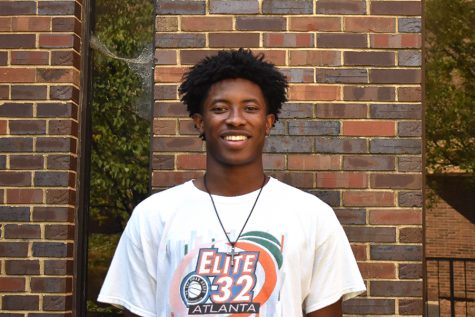 Tre Bell, Staff Writer
Pronouns: he/him

I am a senior, and this will be my fourth year on staff. At first, I wanted to do yearbook because it seemed like that's what everyone...