Fighting to raise awareness for her father's Lou Gehrig Disease
Senior Laurel Rakers gains support from family and friends through fundraisers
Senior Laurel Rakers' father, Lyle Rakers, has been fighting Lou Gehrig Disease (ALS) for the past four years. ALS is a nervous system disease that breaks down muscles and impacts physical function.
"[Lyle] went to the doctor because his muscles started twitching and they tested his blood. They took out pieces of his muscles and his nerves to see what the issue was. They couldn't really figure out what it was until he got a call to go to the doctor. They told him he had Brachial Amyotrophic Diplegia and it was incurable," Laurel said.
As a result, people with ALS have trouble being independent or active. It can be challenging to do daily tasks such as brushing hair, buttoning up shirts, and even walking.  
"[ALS] has honestly affected him in every way. He can't do a lot of things anymore. If he walks 30 yards, he has to rest so we just got him a wheelchair," Laurel said. "He used to be one of the strongest people I knew. He would fix anything and everything in the house without a problem and lift all sorts of heavy objects. But now he can barely lift a cup to his mouth to get a drink. It's really just all these little things that make it hard for him to do anything anymore."
Knowing ALS does not have a cure, the Rakers family began a foundation to raise funds and awareness of the disease.  In September they hosted their third golf tournament, raising over $105,000 for the Lyle Rakers Charitable Foundation. 
"[Receiving the news that there is no cure to ALS] was definitely a little difficult for me because it sucks to be in a place where you have to raise money to 'try' to find a cure," Laurel said. "It's honestly such a great feeling to know that all of these people support and care for my dad and others like him. Everything makes a difference and this event was very special to me."
In addition to the golf tournament, Laurel turned to her varsity volleyball team for additional support. Together, they made lemonade out of lemons.
"It really meant a lot to me and my family that the volleyball program put this night together for people with ALS," Laurel said. "The night was amazing and it was cool to see the other families in the same situation as my dad."
Rakers says her dad's attitude brings her light in this dark situation.
"He is just a happy and funny person all around so when it comes to all of these things, he takes it all lightly. He jokes around about it sometimes and tells my brother and I about how he used to be amazing at everything," Laurel said. "It's honestly reassuring to see him do this because we know he is okay and that he is still the same person no matter what."
If you would like to help Lyle and the Rakers family with their cause, you can donate here.
View Comments (3)
Your donation will support the student journalists of Parkway West High School. Your contribution will allow us to purchase equipment and cover our annual website hosting costs.
About the Contributor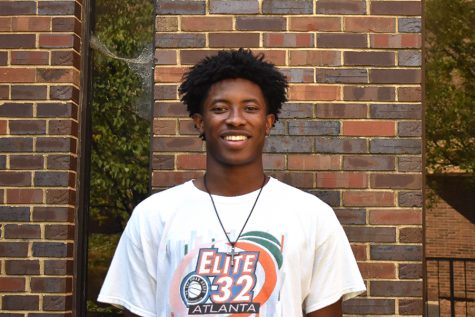 Tre Bell, Staff Writer
Pronouns: he/him

I am a senior, and this will be my fourth year on staff. At first, I wanted to do yearbook because it seemed like that's what everyone...