Growth, gratitude and grappling with loss
Kylie Secrest and her family deal with the loss of father Jamie Secrest to ALS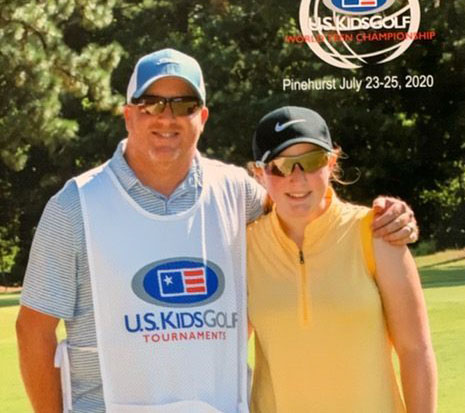 Wheelchair scuffs and dents line the walls, adapted chairs and assistive devices remain scattered around the house, amyotrophic lateral sclerosis (ALS) awareness bracelets and tokens pool in random dishes. Jamie Secrest is everywhere, but the only thing that's truly missing is him.
It has been 26 months since the Secrest family received a devastating diagnosis and only five months since father Jamie Secrest passed from a rare, familial type of ALS. Jamie leaves behind two kids: sophomore and accomplished golfer Kylie Secrest and six-year-old Landon, as well as his wife Jeanne Secrest. He also leaves behind many, many memories.
"[Jamie] was a huge prankster. Everything revolved around joking and having fun. I miss having all four of us joking and being together as a family. We're a family that [doesn't] go to our separate corners when everybody's home, we're [always] together. I miss that, but that's my favorite part about us too," Jeanne said. "Hopefully [we] instilled that in our kids so that they will take that away when or if they choose to have kids someday."
Despite the joking nature of their family, Kylie is very serious and has competed in everything from local competitions on the high school golf team to Pinehurst, the world golf championship for her age group. Some of her best memories with her dad center around golf, and especially him teaching her how to play.
"One of my favorite memories [with my dad] is from the summer of 2019," Kylie said. "I was chipping golf balls at him and he was catching them with his hands, which we did up until about two months before he passed. I chipped [him] a golf ball. He leaned back to get it, stumbled backward, almost hit the car and [my whole family] just burst out laughing."
Golf connected every member of the family, from actively participating in it to weekends devoted to tournaments. Leading up to the weekend before Jamie passed, the whole family attended Kylie's golf tournaments, even though it was hot outside and Jamie was unable to sweat. Refusing to enjoy the car's air conditioning to cool down, as was suggested to him many times, Jamie stubbornly refused to miss even a couple of minutes of the tournament. Instead, he resorted to having ice cubes constantly fed down his shirt. Although Jamie had trouble attending these golf tournaments due to the disease, golf was such a big part of the family that missing it just wasn't an option for him.
"I didn't know how to feel when my mom told me [how much he was sacrificing for me] because, at that point, I was in a state of thinking that [my dad] would have longer like other ALS patients did," Kylie said. "That moment made me realize why he was staying around. It wasn't for himself, but for my brother, mom, and I."
These sacrifices were all worth it for Jamie, as golf is the glue that holds their family together.
"Golf is such a big part of my family's life. That's something that I know nothing about, and I'll never pretend to know anything about it," Jeanne said.
"
What brings us the most peace [now is] knowing that my dad isn't suffering; he isn't hungry, he isn't tired all the time and he can watch my golf events and not have to suffer through the heat. He can watch every moment of our lives and have a front-row seat."
— Kylie Secrest
Although Jeanne may not know about golf, she and Jamie still spent numerous hours driving Kylie to and from golf and watching her at golf tournaments, something that remains special for the Secrests.
"All of the trips that we took and all of the golf courses that we got to play together are some of my favorite memories," Kylie said. "Finally beating [my dad] for the first time in August 2019 [really stands out] because he was so upset, but [it was definitely] a proud upset."
While this loss has been extremely difficult for the Secrest family, they take comfort in knowing that they got to savor every birthday, holiday and other seemingly ordinary moments with Jamie. The Secrest's spent all of their special occasions together as a family, a luxury that Jamie didn't have with his own father, who also passed away from ALS when Jamie was two years old.
"We're lucky that we knew he was going to pass away and we could savor every second that he blessed us with. It was a blessing and a curse [that we knew his diagnosis] because we knew that it was coming and we obviously didn't want it to come, but at least we knew," Kylie said.  "Some families lose family members in a car accident, or a heart attack or an undiagnosed disease that was unforeseen. We were incredibly lucky that we got to know this diagnosis and savor this time we had left with him."
Additionally, the Secrest family finds comfort in knowing that Jamie is finally out of pain.
"It was really hard to hear the fluid buildup in his lungs, seeing him stop eating solid foods, eventually stop drinking anything altogether and knowing that these symptoms were going to eventually lead to him passing," Kylie said. "What brings us the most peace [now is] knowing that my dad isn't suffering; he isn't hungry, he isn't tired all the time and he can watch my golf events and not have to suffer through the heat. He can watch every moment of our lives and have a front-row seat."
Kylie hopes other people going through the loss of a parent or loved one can find comfort in knowing that their pain will eventually lessen.
"It will get better. No matter what, just try to look on the bright side of it. That's what has gotten my family through this, and that's what my dad has always wanted. This just shows you to savor every moment with every other family member that you have because you know how hard it is to lose someone," Kylie said.
View Comments (10)
Your donation will support the student journalists of Parkway West High School. Your contribution will allow us to purchase equipment and cover our annual website hosting costs.
About the Contributor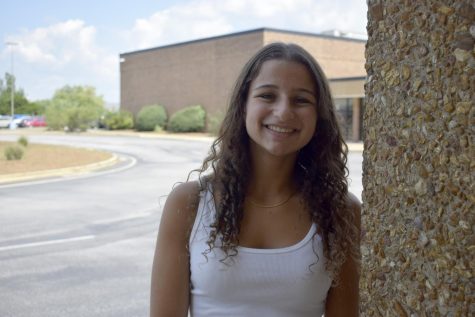 Katie Wallace, Staff Writer
Pronouns: she/her

Grade: 11

Years on staff: 3

What was your favorite childhood TV show? Jessie, Victorious, Shake it Up - all of the classics

What...