The second pandemic: mental illness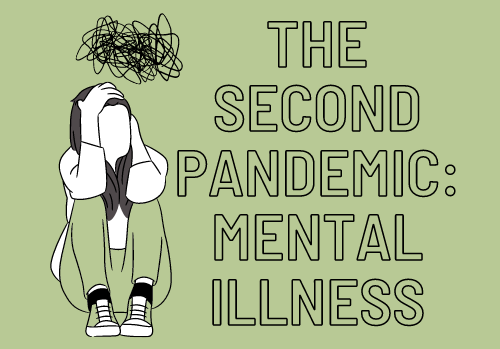 Imagine you are sitting in history class, trying to pay attention to a lecture, but you can hear every sound and see every distraction around you. You can hear the students in the back whispering to each other, someone on the left side of the room scribbling on a piece of paper and another typing on their keyboard to your right. The teacher's aide is giggling at her phone, and people are running up and down the halls. Your hair just isn't sitting in the right place so you have to adjust it again and again, while your shoulder partner keeps fiddling with his pencil. All while being overly observant of everyone coming in and out of the door. This is what sitting in a regular class is like for some kids with mental illnesses like ADHD, or even a generalized anxiety disorder.
Mental health illnesses are things that most health websites believe need to be normalized. May is mental health awareness month and presenters from NAMI, an organization whose goal is to lower stigmas of mental health, share presentations with high school students to raise awareness. NAMI Presenters, Sophie Mueller and Program Coordinator  Tracy Kondla, held a virtual presentation Wednesday, April 29 to help lower stigmas of mental illnesses in high schools. In hopes to do this, they shared their backstories, dealing with mental health. 
"I can not stress enough the fact that mental health conditions are medical conditions. We want to end the silence," Kondla said. "Half of kids ages eight to 15 don't treat their disorders due to the stigmas or shame in their home and school environments," Kondla said. 
Complications in a world of COVID-19 can make it harder for some people to reach out for help or treatment, with limited resources and therapists that are seeing people in a post-pandemic world. Teachers have tried to reduce this issue by reaching out to students, extending deadlines and working closely with students. 
"Parkway West has made a conscious effort to provide access to numerous mental health resources for both students and staff members. The counseling department and the administration have sent out countless emails with resources as well as providing students with an outlet to talk about their experiences and issues," Latin Teacher, and Every Mind Matters sponsor, Tom Herpel said. "Generally speaking, teachers have been checking in with students to see how they are doing at home and have provided leniency for students who are struggling with things outside of their control. The district has hired several staff members for the sole purpose of aiding the mental well-being of students."
Other mental health illness issues have become more of a concern in the past years, as reported by the World Health Organization (WHO). Doctors and counselors worry for teenagers who are living through COVID, because suicide rates have gone up, and other deaths related to mental illness are becoming a bigger concern worldwide. 
"To this day, I think that mental health is trivialized. Individuals are afraid to discuss mental issues they may have out of fear of judgement or embarrassment. I felt like I could make a difference by sharing my own experiences and showing students that they do not need to feel ashamed or alone," Herpel said. 
President of Every Mind Matters Club and senior Arden Dickson thinks COVID-19 has made her a more flexible person; however, she understands the struggles and anxieties of being alone with the whirlwinds that teenage minds have become. 
"The constant change and poisonous feelings of instability have wreaked havoc on the lives of my family, friends and self. There is so much to unpack as far as the effects of isolation and fear on a human. Those with anxiety or another mental health disorder may feel amplified stress," Dickson said. "The truth is, people are struggling with their mental health around us every single day. It's so important to check up on each other."
Dealing with their self-diagnosed anxiety and depression, senior Tempest Knight can relate to the large percentage of the population that deals with mental illnesses. They warn that you should always be aware of the people around you because you never know what people may be going though. 
"People with mental illnesses can be scarily good at hiding their feelings and their actual thoughts. They tend to just put a smile on their face, but when they are alone, everything comes crashing down," Knight said. "I'm the person who almost never reached out for help. I would talk to people in school but, when school is over I [would] only talk to one or two people. That is a major, and serious issue [that is] just being swept under the rug because they're viewed [as something that is] not as important or not as serious." 
Another student that has experiences dealing with mental health illnesses is sophomore Sophia Frobish. Diagnosed with Asperger's and an anxiety disorder since fourth grade, Frobish struggles picking up on social cues and asking for help. Due to the pandemic, Frobish now struggles focusing in classes and managing between Zooms and in-person schedules. 
"I deal with my mental health day in and day out and I want to make people more aware of the fact that it's okay to not be okay, whether you have a mental health disorder or not," Frobish said.
One in five people struggle with mental illnesses across the U.S. It is normal to not always feel normal.
"There's a line in the musical Dear Evan Hansen, 'If you don't feel strong enough to stand, you can reach out your hand'. There is a light at the end of this wacky tunnel and you have proven to yourself that you can get through it. You are so strong for having gotten this far and we are all proud of you. You got this," Dickson said. 
If you need to reach a counselor with any concerns about mental health after reading this article, please reach out to your directed counselor or check out their website. 
Erin Sternberg (Last names A – Da)
Chris Lorenz (Last names De – H)
Jennifer Wibbenmeyer (Last names I – Mi)
Jennifer Skalski (Last names Mo – Se)
Jennifer Spotanski (Last names Sh – Z)
Leave a Comment
Your donation will support the student journalists of Parkway West High School. Your contribution will allow us to purchase equipment and cover our annual website hosting costs.