Scarcity of striped shirts: Why there is a lack of referees
In recent years, it has become a far too frequent sight that sporting events turn into two teams versus the officials. While these events are meant to be a safe and competitive environment for the student-athletes participating, the emotions in the heat of the game can cause the players, coaches and even parents to use poor judgment in their comments and actions, turning the game into a challenging experience for the referees. 
According to a 2017 survey by the National Association of Sports Officials, adult behavior at sporting events is the reason more than 75% of all high school referees quit. The report also found that 80% of new officials stop after only two years. 
"Umpires have been mistreated at games by parents and coaches and players," varsity softball coach Jeff Chazen said. "I think there's a lack of respect that they feel is out there and I tell my parents, 'your job is to be a positive supporter for your athlete and apart of that being to not talk to the umpires at all.' I've had to go into the stands once or twice to tell a parent to calm down."
For some athletic programs, there has been a set mentality that the referees are out to blow the game for one team. Parents and coaches, in response to that, can hold officials in a low regard, setting an unprofessional example for players, creating more tension when there is a questionable call. 
"[The] majority of the time when the officials make a questionable call, I try to be pretty calm," varsity football coach Jeff Duncan said. "I feel in the intense atmosphere of a game, we are all pretty emotional, which is okay, but it's got to be short. I have to set an example for my players, and I expect them to also hold their composure; I set the same expectations for myself."
The issue of arguing calls has become so prominent to the point where after every call a referee makes, you will almost always have someone with a counter-argument. Sophomore baseball player Michael Lolley has always had a strained relationship with officials.
"The issue is definitely with the coaches and players because if there's ever a call that doesn't go their way, whether it's right or wrong, there's gonna be someone that argues it," Lolley said. "Those calls always interrupt somebody's play and players get so caught up in the game and want them to be played the right way."
In an effort to combat the problem, there have been multiple campaigns to recruit referees, but they have struggled because parents and spectators still lack respect towards the officials.
"I think we just need to keep educating the parents," Duncan said. "[The] majority of them don't realize there is a shortage of officials because it hasn't gotten so bad to the point we have to cancel games. We also need to promote people to become officials and have parents still realize the comments they make have an effect on the referees."
While more severe consequences should be enforced for spectators who misbehave, there will still be continued difficulty scheduling and playing games due to the shortage of officials. 
"I feel playing on Thursday nights or even Saturdays can become a common theme moving forward," Duncan said. "They told us that a lot of officials referee Friday and Saturday, so they are trying to have more games on Thursday nights. I know the players like to go home Friday night after a game, but at the end of the day, we still get to play."
In response to the drought of referees, parents, coaches and players must keep their emotions in check and remember that the referees are officiating to the best of their ability. No matter how much you protest a call, it will not change the outcome of the game. While not all parents protest every call made, the sight of constant fighting at youth sporting events is nonetheless a very familiar scene. This is not only important for easier scheduling of games or setting better examples for students and athletes, but this is also about being kind to one another and realizing that the words we say in an emotional setting have a lasting impact. 
Leave a Comment
Your donation will support the student journalists of Parkway West High School. Your contribution will allow us to purchase equipment and cover our annual website hosting costs.
About the Writer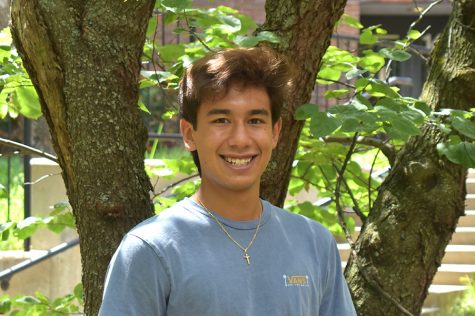 Drew Boone, Staff Writer
Pronouns: He/Him

I am a senior and this will be my fourth year on staff. I look forward to newspaper everyday because it allows me to work at my own...