Speech and debate team honors Haran Kumar through tournament
Alumni Haran Kumar's legacy will be integrated into the first speech and debate Eastern Missouri invitational tournament, hosted at Parkway West Oct. 12 and 13.
"We want to live the things that he lived and with the types of values he had, to advocate for people who couldn't advocate for themselves, to use our voices for something good," program director Cara Borgsmiller said.
Kumar, who passed away June 15 after battling depression, was prominent in the school community and in the greater St. Louis area.
"We [as a team] are still dealing with many of those emotions and it seemed very natural that we would do things at our tournament to remember Haran," Borgsmiller said.
One way the team will continue Kumar's legacy is by eliminating trophies and putting the money they would have spent on trophies towards donations to Every Child's Hope.
"Typically at any type of competition, like a debate tournament when you win, you get a trophy. Haran very much believed they were just pieces of plastic, and he would give up any trophy just to win the argument," Borgsmiller said. "To him, the substance of the win was far more important than the tangible item you received. To honor the active belief that the argument matters more, we decided that we are not going to give out trophies at our tournament this year. Instead, we are going to give out random objects, like stuffed animals, and random plastic toys or books about capitalism, things that mock the idea of needing to win something to have value in what you're doing when you perform."
"
Typically at any type of competition, like a debate tournament when you win, you get a trophy. Haran very much believed they were just pieces of plastic, and he would give up any trophy just to win the argument."
— Program Director Cara Borgsmiller
The speech and debate team is also selling team shirts with one of Kumar's favorite quotes and personal philosophies on the back. Originally being solely for the team, both the Eastern Missouri and local community members have since requested the shirt order be available to all.  
"We're selling our team shirts, and will donate the proceeds to Every Child's Hope, a local organization that does many things, but specifically was a place Haran was going to receive mental health treatments," Borgsmiller said. "They give to the underserved exponentially in a multitude of ways."
Students began preparing for the tournament in August.
"It's one of the most stressful events because there are so many things that go into making the tournament successful," senior and logistics director Luke Donovan said. "Convincing adults to come back to high school [as judges] is one of the hardest things I've had to do over the years. I can say without a doubt that each year, I have cried because of the amount of stress and pressure put on you."
In addition to extensive philanthropic measures, the team hopes to involve community members in the process through the encouragement of judging and promise of home-cooked meals.
"Haran believed in the value of giving back, being active and not just saying but doing what you say," Borgsmiller said. "I can think of no better way to serve our community than to come and listen to the ideas that our future leaders are coming up with, and to give them feedback so they can better serve the world in the future."
Behind the scenes, students will help to run every aspect of the tournament.
"I would like to see debate about more as the learning aspect. We eliminated trophies because [competing] for the trophies is a waste of time," senior and captain coordinator Gokul Venkatachalam said. "[We want the tournament to be] a teaching opportunity for younger students to show them how they should act in the future, to be kind towards novices and teach them rather than bossing them around."
Alumni will also contribute to the tournament by volunteering and coaching students.
"I really wanted to give back to something that made my high school experience so much better. Debate was the reason I came to school every day, and I wanted to help cultivate a team that was so important to me," assistant coach Sarah Curry said. "Debate was the one thing that I left behind in high school that I was never really able to come back to, and I wanted to give back."  
Donovan believes that debate has provided him a unique opportunity to connect with his peers.
"The amount of communication and talking that comes from sitting there going through the same struggles is able to create a connection that I haven't been able to create with anyone else in high school," Donovan said.
View Comments (1)
Your donation will support the student journalists of Parkway West High School. Your contribution will allow us to purchase equipment and cover our annual website hosting costs.
About the Contributor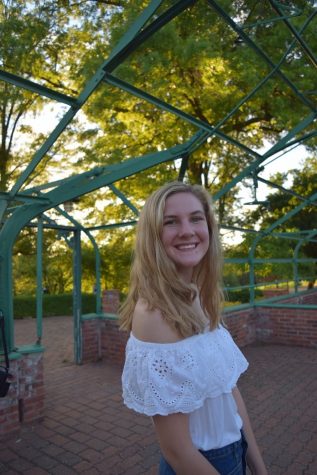 Kathryn McAuliffe, Managing Editor-in-Chief
She/her/hers

Grade: 12

Years on Staff: 4

What has been your favorite quarantine hobby? Completing at home dance workouts

Is a hot dog a sandwich?...