Meet the junior artists
Vannia Ung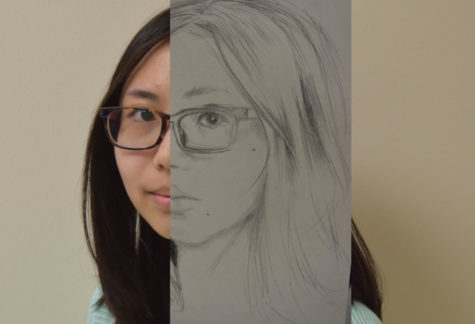 Where do you find inspiration for your pieces?
"I follow a lot of artists online, like on Instagram and Twitter, so I get a variety of ideas, and I can draw inspiration from them. I also get inspiration from my friends. I get my inspiration from life, and since I am taking AP Art Studio next year, I want my focus to be surrealism and dream. This focus is important to me because I believe everyone should follow their dreams. Sometimes I will rush through a piece to finish it if I'm not connecting with it throughout the process so that I can move on and start other projects. My preferred medium is a pencil and paper."
Do you prefer digital or traditional art?
"I want to eventually start using a pad and start going towards more digital art, but I don't have the money to afford that right now. I think the world is moving towards revolutionizing art with technology, so I think it is important that I start to familiarize myself with the tools that help digital artists with their pieces. I was thinking of eventually working with an animation studio."
What does art mean to you?
"I have moved around enough [so that] I couldn't keep friends. When I was in third grade I moved to a private school and the girls there hated me, so I would draw to keep myself busy. I started to take my drawing more seriously when I moved to Beijing, China. It was hard fitting in with people who had known each other for a while, and whenever I had difficulty fitting in, I always had art that stayed with me and was my constant. I think art is an integral part of life, and that we need art to live. It is so important."
Is there anyone who has helped or mentored you?
"When I came to this school district my freshman year, I joined Reflections, and as a whole, it has helped me find my style and learn more about myself as an artist. It made me become more motivated and driven to stick to my art and remain curious about my strengths and talents. I have always loved drawing cartoons. My dad introduced me to Calvin and Hobbes when I was very young, and I have always been surrounded by cartoons or mangas that give me inspiration."
Natalie Butler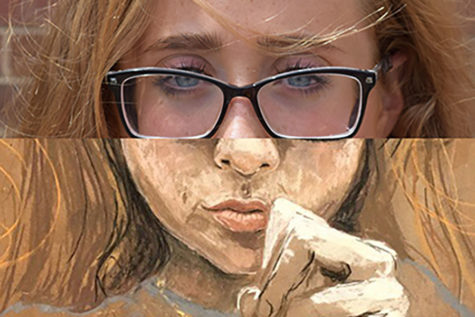 Where do you find inspiration for your pieces?
"We have a concentration in AP Art Studio, and it's basically a theme for all your pieces. My concentration is called 'Art and Eye.' It's a self-portrait, but it shows the creative process behind it. As shown in those pieces, my inspiration for those pieces are things I've been through. I would use my old journal and cut some pieces out and paste them. The message is that you want to be the person that you are today, but without what you've been through, it wouldn't happen."
What was your favorite piece that you made?
"My favorite piece is a capture of me painting, and coming out of my brushes are little cut out pieces of my old journal. There are a lot of personal things that are written on them. It's my favorite because it shows that it's me being me. I am obsessed with doing things on cardboard. I do not know why, but I just like it. If I had to pick a medium, I would have to pick sharpie."
Does art shape you or do you shape art?
"Art shapes me because it affects the lens I see the world in. That's what art taught me to do. Also, I shape art because I add my own style to the artistic world. I have been drawing ever since I was little, and I used to draw on my coloring table for hours. I knew that's what I wanted to do, and I just took an art class to help pursue it from there."
Natan Shpringman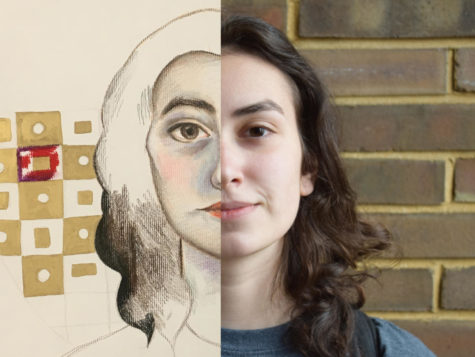 When did you start drawing?
"I didn't take it seriously until late elementary school. However, there was an app called Spray-can where artists could share their work on the platform. I would upload [my art], and people would like and comment. It helped me to continue to improve because there was some kind of expectation I wanted to meet. With that, I started to take it more seriously and wondered whether people would enjoy them."
What is one skill you wish to have?
"I am weak at anatomy. I don't think anyone is naturally gifted at anatomy; in fact, it is more of a skill where you just have to sit down and work on. It's amazing how some artists can just draw skeletons and the muscles and everything. I would like to eventually get better at this skill. Having that foundation on how the body connects is so important for creating a realistic portrayal."
What is your favorite medium for art?
"Oil is the best besides paint. Part of why I like oil is because of the long time it takes for it to cure, which takes a few weeks for the oil to settle in. For my final, it took a long time just because it was an oil piece. I just had to do it over the span of a month. For this specific piece, it took me four to five weeks. Watercolor just dries up quickly, and it's a mess for me. However, there are some artists like Janet Fish [who are] just amazing."
Do you have any advice for anyone pursuing art?
"I feel like art is not inherently different from any other hobby. You are not going to be good at it unless you set out and start doing it. You certainly won't become Picasso the next day, but if you do anything consistently, you'll be better. If you are interested in it, you should just pursue it. All you need is a pen and paper to start."
About the Contributors
Maddie Cooke, STAFF WRITER
Grade:  12

Years on Staff:  4

If you were a fictional character, who would you be?  Barry the Bee

Does the toilet paper go over or under on...
Andrew Li, STAFF WRITER
Grade:  12

Years on Staff:  2

If you were a fictional character, who would you be?  Your mom.

Does the toilet paper go over or under on the...