Students race for Saint Louis Rowing Club
Competing in their first regatta for the Saint Louis Rowing Club, freshmen and first-year novice rowers Jilian Crutcher, Audrey Deyoung, Jonah Gaskill and Emma Wistuba worked alongside graduating varsity seniors Drew Harris and Katy Ward April 22. 
Saint Louis Rowing Club is the only high school rowing club in Missouri, meaning many of their competitions are out of town, with the only exception being their home race.
"This regatta is an opportunity for us to race on our own water, a place we go every day and see how we compare to visiting teams," Harris said. "It's also fun because family and friends that live here can come watch the races too."
Due to harsh weather conditions, the Oklahoma City rowing team dropped out, leaving only the Nashville Rowing team as competition.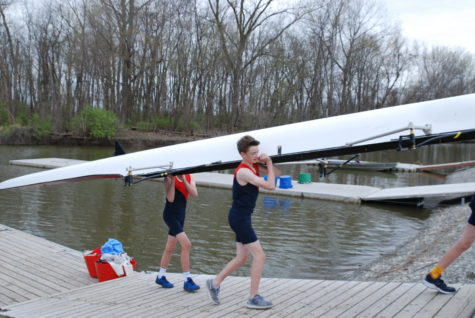 "I really enjoyed the race experience. Just lining up with the other boats and having everyone giving it their all was very cool," Gaskill said. "We needed more work practicing with [our team] lineups we raced with. That would have helped us stay together while racing and it would've helped us get a feel for how the boat moved with that lineup."
The rowing team practices for up to four seasons, although a few students like Crutcher, who plays JV tennis, also participate in school sports.
"I have been pushing myself a lot. Since I'm new I feel like I've missed out on a whole season that the other girls have had. I'm really proud of how far I've come in such a short time," Crutcher said.  "It takes a lot of hard work, and some days I feel like I want to quit, but pushing through the hard times makes me mentally and physically stronger. I honestly think this sport is the only sport I've ever done that pushes me to my fullest ability and then some."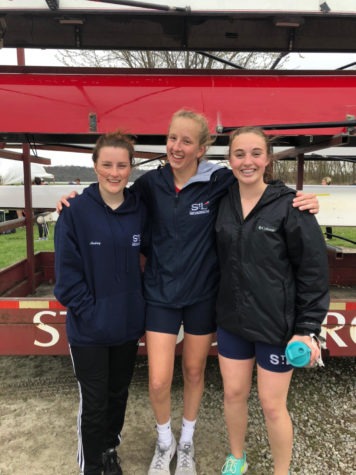 Although Deyoung's boat lost, she hopes it will better prepare her for future races, including the Oak Ridge Regatta April 28-29.
"We lost, but not because we weren't pulling hard enough. The other team was simply stronger and more efficient on the water," Deyoung said. "It's okay though [because] we get stronger and better every day."
Senior Katy Ward is joining Michigan Rowing in 2019 and is grateful to have been on the Saint Louis Rowing Club.
"I've stuck with rowing so long because it is such a special and amazing sport. I like to work hard to win and I like being with girls who are willing to do the same," Ward said. "I know that I will make friends in college, but I will still miss the people here in St. Louis and the rest of our senior class as we part ways for college. The girls at SLRC have become a part of my family and I love getting to see them every day. They are an amazing support system and I honestly don't know where I would be without them."