Orchestra students embrace the culture of New Orleans
After a 13 hour bus ride, 40 orchestra students–led by orchestra teacher Ed Sandheinrich–jazzed their way into New Orleans. From April 12 to 15, students toured the birthplace of jazz.
At Tulane University, students completed an hour-long clinic with Dr. Maxim Samerov where he critiqued the orchestra's prepared pieces of music.
"The professor was really helpful and made sure we sounded well," freshman Salma Ahmed said. "He fixed our intonation and dynamics."
While the trip was organized through the orchestral program, students agree the most memorable moments came from roaming around the city. During the Cajun Pride Swamp Tour, a tour guide led spectators through the Manchac Swamp as they admired and held Bruce, a live jumping gator.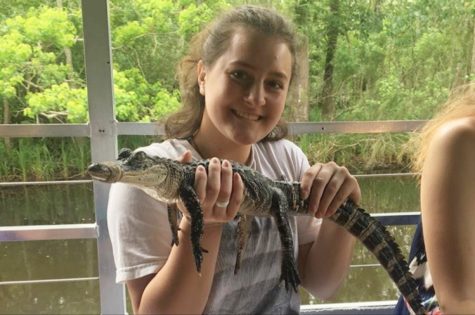 "I loved the stories [the boat guide] told and the history he shared about the area," junior Abbi Bozue said. "It was a little weird [to hold Bruce] because it's a gator, but it was really cool."
At the French Market students prowled for the perfect Secret Stalker gift, an annual trip tradition in which students anonymously chose another student to stalk and gift.
"It's kind of like a Secret Santa. By the end of the trip, we get them a gift based on what they like or what they might think is funny. The person I was stalking was [senior] Davi Jimenez. She started the Kazoo Club, so I got her this really cool kazoo that looked like a trumpet," Bozue said. "I think it's an awesome way to get to know new people. Orchestra as a whole is so awesome, and when we have fun traditions like this that carry on, it makes it all the better."
Students were given the freedom to wander around the French Quarter–a New Orleans suburb–in small groups, allowing students like sophomore Robert McKnight to immerse themselves into the city's culture. After seeing a crowd form, McKnight joined a Charleston dance lesson.  
"I was a little confused at first, but the people all seemed friendly so I quickly felt more comfortable. I was by far the youngest one there which was fun; it was an event mostly attended by old people," McKnight said. "It was a great experience, and if I get the pleasure of going back to New Orleans, I would definitely do it again."
A New Orleans trademark is the various native foods. Many students tried beignets for the first time at Café Du Monde.
"My favorite food was probably the beignets. [Sophomore Theresa Monteleone] and I might have chugged powdered sugar with risk of diabetes, but it was worth it. They were really sweet and so sugary; I just kept eating them," Ahmed said. "The food was totally different; I don't think you can get authentic gumbo or jambalaya in St. Louis. There aren't many people here who know how to make those authentic foods because they don't have the knowledge of the Cajun and Creole culture of New Orleans."
Having attended the past four trips, the journey to New Orleans marked senior Sydnee Yap's last orchestra trip. Even after the traumatic event of being peed on by Bruce the alligator, Yap became enchanted by the town's setting.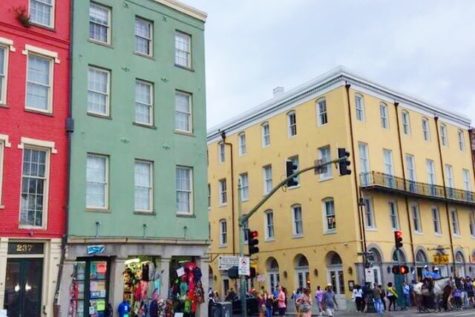 "I've definitely never been peed on by an alligator on any of the other trips. And New Orleans has such a cool vibe to it. Everyone was always partying, and there were so many nice locals. Plus I got a palm reading [which] was new for me," Yap said. "The trips have always been my favorite parts during the school year because it's like a three-day sleepover with my best friends."
The 700-mile drive to New Orleans produced a worldwide view for students as they encountered the city's diverse culture.
"You could be in the French Quarter and see a stand selling instruments unique to Africa, and then turn around and see a stand of freshwater pearls from Southeast Asia," junior Caroline Dunn said. "Walking the streets eating a beignet, hearing the jazz music and admiring the unique buildings never got boring. If I lived there I don't think I would ever get bored because there is just so much to see and experience."
About the Contributor
Nayeon Ryu, Video Editor
Grade: 12

Years on Staff: 3

What's your coffee order? Iced coffee with Dunkin' Dark Roast with toasted almond, caramel, and cream from Dunkin'...