Students reflect on March For Our Lives STL
In light of the Feb. 14 Stoneman Douglas High School shooting in Florida, citizens across the nation marched in solidarity with victims of gun violence and demanded action from Congress on March 24 during the March For Our Lives demonstration.
"The current students are the next generation to vote. They are the people that current laws are going to affect. It is our future, it is our safety and it's important for kids to be vocal about what they need because in the end, they are the ones who will face the aftermath," sophomore Campbell Stewart said.
Along with over 12,000 other people, Stewart attended the St. Louis march held at the Union Station from 10 a.m. to noon to show her support for gun control.
"I think marches have the power to show strength in numbers," Stewart said. "As I was walking to my car carrying my sign, men and women kept rolling down their windows, screaming that they loved me. It was amazing to feel the community unite in such a great way to invoke much needed change."
Although junior Tim McAuliffe was unable to attend the march, he supported the cause from his home.
"What [some] think we want is a radical ban of all guns. We understand that there are responsible people with guns. All we want is responsible gun reform," McAuliffe said. "[Students] know what it's like to have militarized schools. We know what it's like to be afraid of going to class. We know what it's like to think 'Am I next?'"
Concluding that thoughts and prayers are not enough to invoke change to current gun policy, students like Stewart and McAuliffe encourage fellow peers to be vocal and get involved with the community. Sophomore Sabrina Bohn also upholds this idea as an active member of the Students Demand Action (SDA) organization.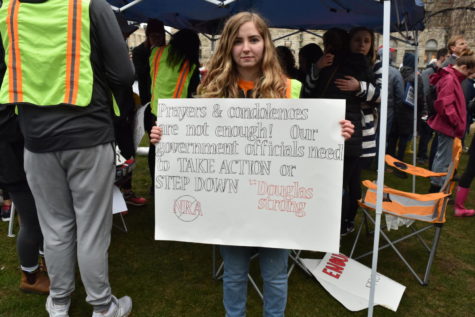 "After so many school shootings just this year, you can no longer pretend that this could never happen at your school," Bohn said. "We are unsafe with the current laws in place, and that makes me and so many other students terrified and angry. Instead of stewing in these emotions, we need to stand up and demand that politicians and leaders take action against gun violence."
The SDA has planned a nationwide school walkout April 20 at 10 a.m. After the walkout, from noon to 2 p.m., Bohn, McAuliffe, Stewart and other local students plan to gather outside of Attorney General Josh Hawley's office to protest for gun reform.
"A lot of people criticize walkouts because it's bad to miss school, but the truth is, I'm walking out of the school because I want to be able to continue to learn and go to school," Bohn said. "I can't do that if I get shot. By walking out, students are able to show how desperately we need stricter gun laws."
About the Contributor
Nayeon Ryu, Video Editor
Grade: 12

Years on Staff: 3

What's your coffee order? Iced coffee with Dunkin' Dark Roast with toasted almond, caramel, and cream from Dunkin'...