Rho Sigma Delta Wins National Championship
The Parkway Step Team, Rho Sigma Delta, traveled to Virginia Beach March 19 to compete in a national step competition and won first place.
"Anytime our coaches talk to us they tell us 'We're taking home first place; we aren't taking home anything less,'" freshmen Thalia Banks said.
Banks attributes the team's confidence to their practice schedule; Rho Sigma Delta practices Mondays and Wednesdays for two hours and again on Saturdays for four hours.
"The practices have made me more active; instead of just sitting at home and doing nothing it gets me more involved and makes me want to play more sports," sophomore Alyssa Butler said.
Practices have inspired members like sophomore Me'Kayla Jones to take control not only of their physical health but their schedule and time commitments.
"It takes a lot of hard work especially at practice because you have to make sure you're not tired and have all this energy and make sure your schoolwork is on point," Jones said.
For sophomore Tywan Simms, continuing the team's pattern of excellence means practicing beyond the required hours.
"The first thing I did whenever I got home: practice. I went over every step, warmed up, drank a lot of water, stretched; everything," Simms said. "Freshmen year, step was the only thing that caught my eye. It wasn't basketball, it wasn't football and it wasn't baseball; it was just step. I feel like it's an art."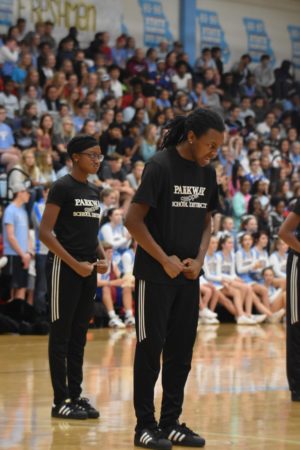 The team faced a unique challenge on its way to nationals: combining students from all Parkway High Schools. For Jones, this has also come with its perks.
"The coaches encourage you to come out of your shell. I used to be really quiet, but once I joined step I started talking to more people because there's so many new people to meet because it's four schools combined," Jones said.
While the national championship is a symbol of Rho Sigma Delta's efforts, personal growth in regards to discipline was the greatest takeaway for Bost.  
"Even if we didn't win we wouldn't have taken it hard because our coach always tells us as long we go out onto the floor and put everything into it then it doesn't really matter if we get first place," Bost said.
Personal growth has been a mission of the Parkway step team since it's beginnings at Parkway South in 2009 under the leadership of Coach BJ James.
"I started coaching step because six students at South wanted to start a new club and they needed a sponsor," BJ said. "I shared with them I would do it as long as their education was their main focus. Our mission statement is 'To Better Our Education With A Step' meaning every stepper will take every step to better their education. For example attending school, going to class on time, participating in class, doing classroom work and homework."
Senior Donielle Coach believes that step has been a powerful force in her preparation for college and pursuing community involvement.
"I learned that everyone brings something to the team and that it's not always about you," Coach said. "Sometimes you have to take one for the team because you are a part of something bigger than yourself."
About the Contributors
Caroline Judd, SOCIAL MEDIA MANAGER
Grade:  11

Years on Staff:  2

If you were a fictional character, who would you be?  Phoebe Buffay from Friends

Does the toilet paper go over...