Robotics team competes at state
After winning first place at the first Annual Cross Keys Tournament on Feb. 3rd, the Mechanical Bulls and the Full-metal Matadors headed to Rolla, Mo. on Feb. 17 to compete for the Missouri State VEX Championship, hoping to bring home the win. The competition took place at the Missouri University of S&T (Science and Technology).
"This is my first year competing in the VEX Robotics Competition," sponsor Chris Donaldson said. "However, we are building upon successes of an established West High program. The team went to state last year too, and some of those students returned this year to share their experience and take the team's performance to the next level."
Though the competition is in February, they began preparations in August.
"We started to prepare in August so that we had a good head start," sophomore Bhargav Addaggarla said. "We actually had a robot that had too much torque and since we started early, we had enough time to change the design."
Both teams competed in the 'skills challenge' where the robots were required to score points in autonomous mode, meaning the competitor had to program the robot to know where to go in advance.
"During 'skills,' we had two minutes to stack as many cones as possible. We ended up getting around 74 points, but we did it with style. Our vice president bought a VEX-brand speaker and coded songs like 'Mission Impossible' and 'All-Star,'" senior and president Chris Narishkin said.  
The Full-metal Matadors were knocked out in quarterfinals, but the Mechanical Bulls made their way to the finals, losing to the Space Monkey Mafia from Kansas City.
"I think the reason we lost was that they had a lot more funding," Addagarla said. "We were able to get $3000 from [Principal] Jeremy Mitchell and roughly $5000 for qualifying at state, but the Space Monkey Mafia had $40,000 of funding."
Though they did not win first place, the team won the Best Design Award for their robot.
"Our back half of our robot was meant just for stacking cones, so it was a double verse forklift that used countering motion of gears," Narishkin said. "And the front half of the robot moved the stacks."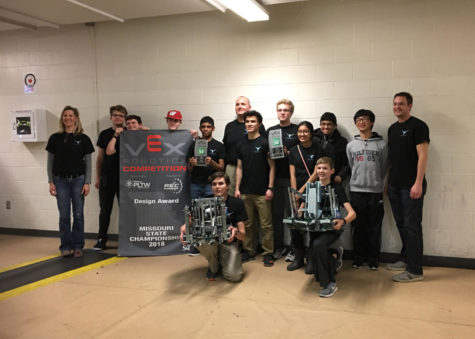 Though the team placed second overall, many of the team members appreciate the effort that Donaldson put into the team.
"He was more enthusiastic about the club," Addagarla said. "He also came to our tournaments and invested a lot of time into it."
Coming back from the loss, the team hopes to get to nationals next year.
"We have an agile team that is good at designing, building, coding and driving robots to solve problems and complete the challenges that they sets out to do," Donaldson said. "Both teams have done a great job this year researching their competition, casting a clear vision and executing that plan."
About the Contributor
Ridwan Oyebamiji, Features Section Editor
Grade: 12

Years on Staff: 3

What's your coffee order? Decaf Cappuccino

What song describes you best? I didn't feel like answering this.

What...