Freshman Max Werner's love for succulents blossoms
Over the last year, Tumblr has become obsessed with the tiny, delicate plants called succulents, which are now peaking the interest of young gardeners. Freshman Max Werner is one of these succulent lovers.
"They are the hipster plant," Werner said. "One thing for sure, if you look them up, is that Tumblr is obsessed with them. Pastels are also in trend, and Echeverias grow pastel, lavender and light green leaves. The color and aesthetic are popular."
At a young age, Werner's love for succulents began to sprout, though he did not know much about types of succulents until over the summer.
"I have had this Hens and Chicks plant as long as I can remember. My grandma has had it longer than I've been around. One day, I decided to look up what this plant is," Werner said.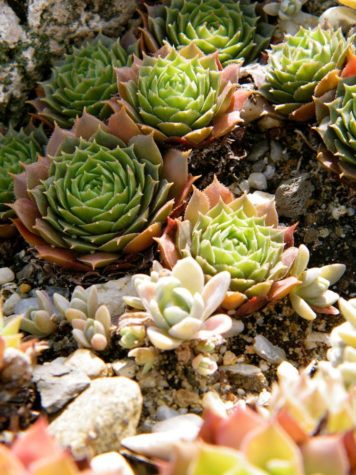 It was not always easy for Werner to care for plants. As a child, he tried to help his mother tend to her vegetable garden, but found it challenging to keep the plants alive.
"In the beginning, I couldn't grow anything, while she ended up with a huge harvest. It made me feel like I couldn't do anything," Werner said. "When I stumbled along succulents, and started growing some, within a few months I had a full-blown succulent paradise on my desk."
With over 30 succulents in his collection, he must carefully track their individual needs. Keeping them in a southwest-facing window, he sprays them with water every other day and collects the propagations, leaves that can be used to grow additional succulents.
"My favorite succulent is either burro's tail or my Echeveria. I have a very pretty Echeveria that I named Usagi from the anime Sailor Moon," Werner said.
While working in his room on a painting, it can help Werner focus on his work. He finds the experience of gardening very relaxing.
"The only time when it is not relaxing is when a pet gets into a plant or something happens. One time I woke up and was trying to get to my alarm to press snooze, and I tipped over a pot," Werner said. "It was okay. Most of the time, the plant's roots are tangled into the dirt, so the plant is tightly rooted."
Werner plans to study biology to learn more about the needs of flora, and hopes to one day run a nursery for cacti and succulents.
"I am happy I can actually grow these plants without threatening their lives, unlike other plants I have grown in the past. Other plants are very difficult to grow, but succulents are low maintenance and simple, like an independent person," Werner said.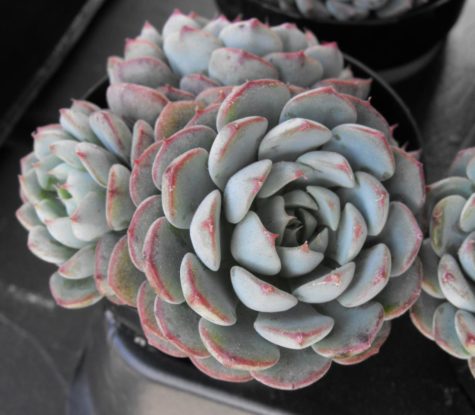 Because of his interest, Werner founded the Succulent Society of Parkway (SSOP) to teach students how to properly care for a small plant. Each member is given their own succulent to keep at school and look after over the course of the year.
"Every meeting we check on our plants and make sure there are no issues, like leaf rot. If so, I will replace them. We take care of them," Werner said.
SSOP does not just bond over botany; members also enjoy discussing other areas of interest.
"Succulent club is so much fun, and I'm really glad I joined," senior Samantha Gaddis said. "We listened to music, talked about things we love, and took care of our adorable little plants. I can't wait for the next meeting."
Although the club is still young, Werner has big plans for future SSOP meetings.
"I plan on going to local gardens like nurseries. For the end of the year trip, I want to go to the Botanical Gardens with the members," Werner said.
Werner believes every person with the adequate resources should try growing a plant, and SSOP can be a safe space for students new at gardening.
"I'm looking for more kids to get more active in growing plants by starting with a very simple plant," Werner said.
SSOP meets every Thursday before school at 7:00 a.m. and after school at 2:45 p.m in room 3213.
About the Contributor
Sydney Kinzy, PHOTO EDITOR
Grade: 12

Years on staff: 4

Life soundtrack: "Borderline" by Tove Styrke.

Most passionate about: "It breaks my heart that so...