Jessica Verweyst lives the love story of a lifetime
Spanish teacher Jessica Verweyst met the love of her life, Andrew Verweyst when she was a child and have been married for almost a year.
"Our families went to the same church together and so his mom was pregnant with him when my mom was pregnant with my older sister. Fifteen months later, here I come, and we grew up in Sunday school together," Jessica said.
Not only did the two spend time together at church, but Jessica and Andrew spent time at each other's houses playing games.
"We played ping pong a lot at his house. He had a little table tennis thing and I remember I was too short to reach the top of the table. He's probably a foot taller than me now, but at the time, he had a good six or seven inches of height on me and so I always lost, of course," Jessica said. "I could barely even get the paddle over the edge of the table to play the game."
However, when Jessica started to separate from the church when she was 10 years old, it caused her to lose connection with Andrew.
"My mom was raised Catholic and my dad was raised Lutheran Christian, and so because of their little tiff between each other, they made it very difficult for us to become part of either one of those organizations," Jessica said.
Jessica reconnected with Andrew when she was 13 years old at her local church youth group, in Webster Groves, after not having seen each other for years.
"I was 13 and I remember seeing him and recognizing him at youth group there. He was in the youth group room and I walked in and immediately recognized his face and I said 'Oh my god, it's Andrew! Andrew, how are you?' He looked at me, blank expression like 'Who are you again? I don't know who you are,'" Jessica said. "I was like, 'You don't remember? I went to your house, your sisters babysat me, we watched 'Power Rangers' and 'Gargoyles' together.' He was like 'I have no idea who you are.' So it was kind of interesting to restart our relationship at that point, which was fine because it had been years since we had seen each other."
Jessica and Andrew have made many memories together through their long relationship.
"He got his driver's license first, so we used to go to the movies all the time together. When I was growing up, the mall was the coolest place to be so we would always to go West County Mall, which was closest to his house," Jessica said. "I remember we went to Six Flags together one year. We were standing in line, a huge line for the Screaming Eagle and there was like a soda off to the side just kind of like on the edge waiting for somebody to dump it over. He grabs it and dumps it all over my head, and this is like this stale, hot soda in the middle of August. We just had a good time together and just laughed, he's very humorous."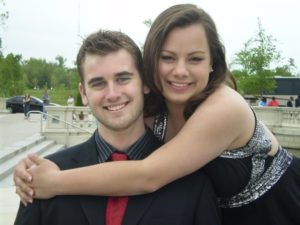 Jessica was 17 and Andrew was 18 when they officially started dating Sept. 27, 2008 after having their first kiss.
"He left his phone in the car and I was like, 'Oh, I will help you go get your phone from your car.' Like what who does that? Me apparently. So we went out to get his phone and I was so nervous. I was going to go and try and make the move and kiss him first, but I couldn't do it," Jessica said. "And so I turned around to walk back inside and it started to drizzle, then he grabbed my hand and he spun me around and kissed me. It was raining and it was so cute."
After graduating from Webster Groves High School, Jessica made the decision to study abroad in Ecuador for eight months, but instead of shattering the relationship, it only grew.
"[I told him] I'm going to be living in South America and I will have very limited access to internet or to be able to communicate with you. So I gave him the decision [on whether] we are going to stay together long-distance, or break up. Ultimately, he decided we should stay together," Jessica said. "Being 1,000 of miles apart, speaking different languages and having that trust, countries away, was so important in our relationship that going in from there to college life and adulthood, it was just an appropriate passage to do that."
Jessica and Andrew got married May 28, 2016.
"Our wedding was in the church where we grew up as kids. Our youth minister from our high school youth group was able to fly into state and officiate the wedding for us, so it was very meaningful to incorporate all time frames of our relationship in the official binding of our lives," Jessica said. "With 100 close family members and guests, we wanted to provide a celebration of our love and include those we care most about. I think it was pretty conventional, other than the fact that it was all done by family. It was absolutely perfect!"
The marriage should not have been a surprise nonetheless. When she was five, Jessica predicted her future.
"I was running around the Sunday school room where he was also running around," Jessica said. "I ran over to [my mom] and I pointed [Andrew] out and I said 'that's the boy I'm going to marry' and I ran away. Here I am 21 years later, married to him."
About the Contributor
Sarah Lashly, COPY COACH
Grade:  11

Years on Staff:  3

If you were a fictional character, who would you be?  Garfield

Does the toilet paper go over or under on the...