Cheer trims down program with incoming freshmen
With the 23 incoming freshmen trying out for cheer on top of the 52 other people trying out, the program has no other realistic choice but to make cuts.
"To me it's really great that cheer is becoming a cut sport now," varsity cheer captain and senior Kristen Baranski said. "When I started out on varsity four years ago as a freshman, there were only 13 girls on the team. We were desperate for people."
Varsity cheerleader and sophomore Carson Lolley hopes cuts will bring significant changes to the program.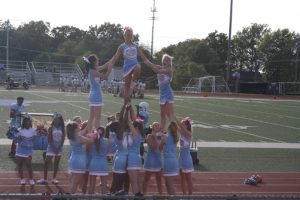 "I'm pretty excited for [cheer cuts] because I think it's something that's going to allow the people who are going to put a lot of effort towards the team and who are going to be committed to shine through and have the opportunity to participate in cheer," Lolley said.
For JV cheerleader and freshman Sophie Marx, cuts would be devastating to the positive environment she has experienced with cheer.
"I don't think cheer should be a cut sport because of how much it has done for me and the other girls," Marx said. "The opportunities that I had should be open to all the girls and boys that are interested in it. I gained so much, and I think anyone who will take cheer seriously should be able to have that."
Marx feels that cheer has allowed her to become a more outgoing person and that she can bring a more positive attitude to her friends and family struggles.
"Cheer feels like a family to me now, and I am a completely different person thanks to my coach and everyone on JV," Marx said. "Cheer helped me address my struggles head on, and become more peppy on and off of the sidelines."
Varsity coach Pam Mueller declined to make a comment on cheer cuts, instead offering her advice to girls and boys trying out for the 2017-18 school year.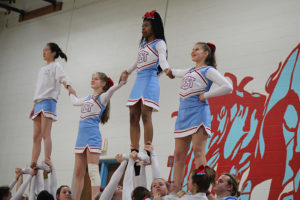 "My advice is to come to tryout week with all of your paperwork turned in, give it your best, work hard, and have fun,"  Mueller said.
JV coach Samantha McCullough is grateful for the spike in interest, but feels that cuts are necessary at this point.
"[The program] realistically can't take everyone and have 50 cheerleaders standing on the sidelines during games," McCullough said.
Tryouts are March 27-30, and include learning a chant, cheer, dance, basic cheer movements and performing an extra skill of the participants choice.
"We want to encourage everyone to come and put their best foot forward. Whether they have never cheered before or have been a cheerleader their whole life. We are open minded to giving anyone with passion for the sport a chance," McCullough said.
About the Contributors
Gaby Van Winkle, Staff Writer
Grade 9. Interests include cheerleading, lacrosse and sleeping.

"It may pass like a kidney stone, but it will pass."
-Anonymous
Maddie Cooke, STAFF WRITER
Grade:  12

Years on Staff:  4

If you were a fictional character, who would you be?  Barry the Bee

Does the toilet paper go over or under on...