Alumnus Brad Schiff wins Oscar nomination
In the late 80's, alumnus Brad Schiff did not view himself as popular while attending West, but after being nominated for the Visual Effects Oscar for his work in Kubo and the Two Strings, he finds himself no stranger to Hollywood. He attended the Academy Awards last night in Los Angeles.
"There is no greater honor in our industry than the Academy Award. Knowing how the voting works, the nomination really is the true reward. It came straight from the Visual Effects Branch. To be recognized by them for our work is absolutely incredible," Schiff said. "I feel we've already won in a big way so I'm just going to be soaking in the whole experience."
Focus Features
As a high schooler, Schiff took as many art classes as he could, but found himself lost in college.
"My best friend and fellow West Alum Mason Rothert was at the University of Tampa taking animation classes," Schiff said. "He had a professor by the name of Richard Protovin. Richard used to do these beautiful water color animations and used to say 'You don't need to draw great to animate great.' As someone who was self-conscious about his drawing ability, that sounded fascinating to me and I transferred schools. While there, I discovered the ability to sculpt and started doing stop-motion clay animations and fell in love with it."
Schiff has continued his passion for animation with the film company Laika, working as the Animation Supervisor on The Boxtrolls, ParaNorman, Kubo, which focuses specifically on the animation of character movements throughout the film.
"I work with the puppet and costume departments to assure they are built in a way that the animation team can get all the movement necessary for the subtle and nuanced performances we are going for. In Kubo, I oversaw all facial animation and I manage a team of 30 animators assuring the animators stays on style and are delivering the performance the director is expecting," Schiff said.
Kubo was chosen as one of the top 10 of 300 films submitted to be judged. Schiff and his crew—including Steve Emerson, Oliver Jones and Brian McLean—presented to 310 Academy voters at the Samuel Goldwyn Theater at the Academy of Motion Pictures Arts and Sciences.
"When it was our turn, Steve Emerson, our Visual Effects Supervisor got up and talked. His speech was incredible. Our reel played and it really stood out from the rest and I could tell from the crowd reaction, it played well," Schiff said. "Regardless of how it was going to play out afterward, we felt good about our efforts."
He first heard about his nomination in Portland while his mom was in town.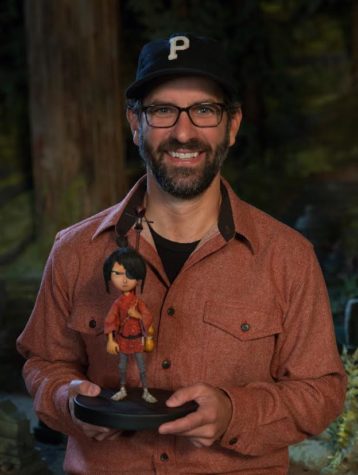 "We watched the nomination announcements live stream on my computer at 5:18 a.m. When the Visual Effects Category came up and they announced our film and I saw my name, I have to admit, I cried. So did my mom," Schiff said.
Although Kubo lost the Oscar to The Jungle Book, Schiff remains proud about the animation in the film. His team has worked on four films in the past decade, and Schiff feels like this is the most ambitious of all of their work.
"We built a 16 foot tall skeleton—the biggest stop-motion puppet ever animated. We had a giant garden of eyes, fight sequences that took place on a boat in a stormy sea. On top of all that, we had emotional subject matter that demanded the most subtle performances ever seen in the medium," Schiff said. "We wouldn't have been able to make this film a few years ago. Everything we've learned over the last decade plus the trust we have in one another enabled us to overcome all of the challenges of this film."
Schiff had previously won an Emmy for Outstanding Individual in Animation, following in the footsteps of his father who won three Emmy's over the course of his career.
"I was six years out of school and three years working in television. At that point where I was in my career, there was no bigger honor or award of recognition than the Emmy," Schiff said. "The fact that we both wound up winning Emmy's was pretty special."
Schiff's team is currently halfway done with Film 5, whose official name has not yet been announced to the public yet.
"There is an immediate satisfaction at the end of each day when you can press play on your frame grabber and see what you've created that day. Every week, you get to see your work projected on the movie screen in the theater in front of the entire crew. I don't know how many jobs out there you get to actually see your contribution," Schiff said.
From a C-average high schooler to an award winning animator, Schiff has transformed.
"I truly believe in pursuing what you love but you have to work hard at it. Bet on yourself, take that leap of faith and move to where the work is. Things in life don't come easily," Schiff said. "I went from being a lost soul, not knowing what in the hell I wanted to do in life, to finding my calling and knowing exactly what I wanted to do. It was sudden and it was definite. To this day, I feel incredibly lucky to have found that."
About the Contributor
Sydney Kinzy, PHOTO EDITOR
Grade: 12

Years on staff: 4

Life soundtrack: "Borderline" by Tove Styrke.

Most passionate about: "It breaks my heart that so...