SPARK! Sets students on a pathway to success
Shadowing professionals, participating in local competitions and getting hands-on experience are some of the reasons that Parkway SPARK! Is a common alternative education program for students.
SPARK! is a program that develops learning experiences for students based on their fields of interest. It is built in to students' schedules and they attend every day at different times, depending on what strand they are in.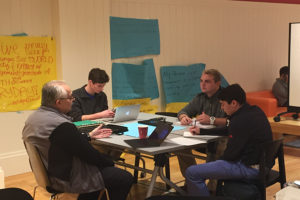 "I go to SPARK! for my first three periods of class," senior Carly Rath said. "I'm done by 9:45 a.m. so I have plenty of time to get to school to make my fourth hour."
Parkway SPARK! continues to thrive after three years operating, adding additional strands annually. There are now six strands: Bioscience, Engineering, Incubator, Pre-professional Health Sciences Academy, Teaching & Learning and Technology Solutions. Rath is in the pre-professional health sciences strand.
"I've been able to learn a lot about medical terminology, the body systems, and the ethics of medical treatment. I've also learned a lot from shadowing this semester. I've been able to find out about different career options in a hospital and I get to see how it works from the inside," Rath said.
Rath shadows at Barnes-Jewish West County Hospital, and this semester, she will shadow in 20 different departments.
"
I wanted to jump in it as quick as I could to make sure that it's really what I want to do."
— Logan Williams
"So far, I've found the inpatient nursing department to be the most interesting. Even though I'm just watching the nurses, I've enjoyed seeing the patient contact and how much the nurses are able to help people out. It's nice to see your actions actually benefitting a patient and knowing you can affect their lives," Rath said.
For senior Logan Williams, SPARK! is a completely different experience. He is in the incubator strand, which exposes students to entrepreneurial opportunities.
"I decided to get involved in SPARK! my junior year," Williams said. "I wanted to do it because it offered a non-traditional classroom type of feel, real world connections and experiences that would help me later in life. Also it gives insight to my hopeful future career path in something to do with business. I wanted to jump in it as quick as I could to make sure that it's really what I want to do."
After participating in the entrepreneurial program, senior Addison Caldwell decided to take a gap year to focus on her startup business, Students 2 Students (S2S).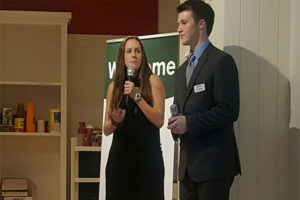 "I'm planning on taking college classes, and depending on how busy I am, I might get a job on top of it," Caldwell said. "I just want to get my business off the ground and focus on it during the startup to get it stable enough to where I can go to college while running it."
Caldwell's business involves students teaching extracurricular private lessons to other students.
"Our goal is to help high schoolers get a fun and well paying job, and help them learn that they can use their passion for their paycheck," Caldwell said.
The opportunities that come with SPARK! are extremely beneficial, providing students with real world experiences to get them a step ahead in their fields. The technology program has provided senior Andrew Sunarto with an internship at MYNAH Technologies.
"I started the internship on Feb. 6. I'll be working with their software development team in creating scalable vector graphics for implementation in dynamic schematics," Sunarto said. "I'm excited because I'll be getting a lot more experience in the field and become more comfortable in the workplace."
Sunarto started attending SPARK! his junior year. He heard about the program through a friend, and decided to try it when he mentioned a strand that sounded interesting to him; the Tech Solutions strand.
"Michael Palmer, our strand director, goes out of his way to make sure all of his students land internships in fields they're interested in," Sunarto said.
For each semester of SPARK!, students are required to learn three skills.
"For my skills, I learned Java, Python and SQL. Now I have basic knowledge in programming applications in those languages," Sunarto said.
According to Sunarto, SPARK! is helpful because it informs students about different learning opportunities that they would not have heard about otherwise.
"One opportunity we've got to experience has been hackathons. The biggest one I went to was Globalhack IV," Sunarto said. "There, most of us learned how to work as a team, how to network ourselves with big companies and how to think outside the box since we were competing against hundreds of other groups."
For students like Sunarto and Caldwell, the opportunities that SPARK! has provided them have changed their perspectives on their fields of interest.
"In Personal Finance, we are taught about how the business world is so straightforward, but I've learned from SPARK! that it's not like that at all. It's more about being creative and being able to think on your feet and being flexible with what's going on around you," Caldwell said.
Real world experiences in the business world has provided students like Caldwell hands on experience.
"I'm thankful I've had this opportunity because it has already shaped my future. It's given me my first real business experience and it's really cool I've found it so young," Caldwell said."Hopefully it will be the foundation of the rest of my business endeavors."
About the Contributor
Ellie Widowski, Staff Writer
Grade 12. Interests include movies, music, basketball, golf, spending time with family and friends. "I'd rather be hated for who I am, than loved for...