PAWESEHI is nominated for 2016 NSPA Pacemaker award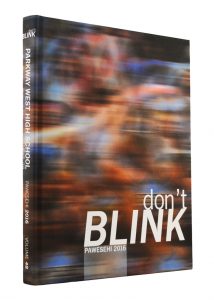 Yearbook. While to many people it may just seem like a simple chronicle of a year at school, it is an adventure, an occupation and even an entire world to those who create it. With the 2016 yearbook, PAWESEHI was put on the map of scholastic journalism for a second year.
On Feb. 8, the yearbook staff was nominated for the National Scholastic Press Association (NSPA)'s Pacemaker award for the 48th volume of the Parkway West High school yearbook.
"The Pacemaker is the association's preeminent award and is often called the Pulitzer Prize of scholastic journalism," Laura Widmer, executive director said. "NSPA is honored to recognize the best of the best." Only 61 high schools and middle schools in the United States received the nomination in 2016.
"They were meticulous with detail," Yearbook Advisor Debra Klevens said. "They really took the theme and made it flow throughout the book, from cover to cover."
Not just last year's staff are recognizing PAWESEHI's achievement.
"It makes me really proud," said former Editor and Chief, alumni Maggie Walkoff. "I was in a program that's really successful, and it was great to put on college applications."
Three years ago, the first time PAWESEHI was nominated, the Yearbook changed publishing representatives, moving from Jostens to Herff Jones.
"The people at Herff Jones really helped us improve the book," Walkoff said. "It helped I think when we used the chevron and the other design aspects that were particularly relevant to that year. I really liked the color scheme and the cleanliness of it."
The PAWESEHI's yearbook publisher says that there is considerable competition between schools for the award.
"What makes a book stand out is a comprehensive theme package that runs from cover to cover where the coverage fits with the theme that staff is trying to accomplish," representative Dan Mueller said. "It is the most prestigious award that a staff can be nominated for. It's bigger than winning state championships for a sport."
Debra Klevens, the yearbook sponsor and teacher, says that it was due to tremendous student effort.
"My interviews just keep getting longer and with deeper questions. Now I'm doing 10 minute interviews instead of just a few questions. The editor feedback has really helped me grow as a writer and reporter. I'll be the one engineer that can actually write," junior Chris Narishkin said.
Besides a seamless theme and crowd shot accents, the book also included Aurasmas, which are digitally augmented pictures that link to other media content, including videos and infographics.
This year, the yearbook staff plans to maintain high standards, following what they did in 2016. In the 2017 book, the PAWESEHI staff is trying to bring out unique viewpoints that are not always seen with the theme "Before You Judge Us".
"We are working really hard to keep the same legacy," Klevens said.  "I am optimistic and hopeful that we will go just as far as last year."
With less than 50 students on staff, and a whole year of events to cover, the PAWESEHI staff works daily to take photos, conduct interviews and write stories.
"Being on the yearbook staff helped me learn how to embrace my school and show off all of the wonderful people and things about it," Ellis said. "I've done a little bit of everything, from pages to story writing, caption writing and interviewing."
While Ellis sees the impact of yearbook through a student lens, Gary Lundgren, associate director of NSPA, says it is a chance to showcase premier design methods and techniques.
"The yearbooks selected by the judges tell amazing verbal and visual stories and that content is packaged with dynamic design," said Gary Lundgren, associate director said. "The best yearbooks engage their student readers through extensive and inclusive reporting."
The Pacemaker finalists will be recognized and the Pacemaker winners will be announced at the JEA/NSPA National High School Journalism Convention, April 6-9, 2017 in Seattle.
"I love the convention because it provides students a hands-on opportunity to meet with industry professionals and to see what they can do with their individual programs when they return home," Klevens said. "It gives them a chance to explore out-of-the-box ideas."
About the Contributor
Emily Dickson, CONCEPTUAL EDITOR-IN-CHIEF
Grade: 12
Years on staff: 4
Life soundtrack: "Ohio - filious remix" by Damien Jurado.
Most passionate about: "Equal opportunity education for children...