Alyssa Erhardt grieves for her late father
On Sept. 29, Craig Alan Erhardt passed away after he lost a battle with cancer. At first, the doctors found that it had metastasized to his lymph nodes, but after having surgery to remove it, they discovered that it had traveled to other regions of his body.
"A while after the surgery to remove his lymph nodes, he was having some pain in his stomach," junior Alyssa Erhardt, daughter of the late C. Erhardt said. "I thought it was going to be something minor. But then my aunt Kim came over, and she wasn't supposed to come over that day. That's when I knew something was wrong."
At the very beginning, it was only melanoma, and in just less than two years it spread all over his body, despite four surgeries and two types of radiation: gamma knife radiation, and normal radiation.
"My aunt said that it spread to his brain. After seven days, we found out that he had a tumor the size of a pear in his frontal lobe," Alyssa said. "After a full PET scan, they found that it spread to his legs, his other lung, his liver, his pancreas—just—everywhere."
Alyssa had thought that the cancer might eventually come back, but hoped that it would not happen so quickly.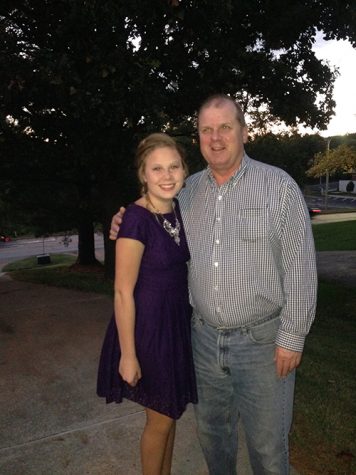 "I always knew this was going to be a problem for him, but it just hit really hard because I didn't realize it was going to be so soon," Alyssa said. "As time progressed, his predicted life span just kept getting shorter and shorter."
Alyssa tried to play field hockey and stay engaged with her academics, but eventually found it to be more difficult than she thought.
"I went through the first and second days of school fine. Then when I got home, he wasn't there. I got a call from my mom. He had a seizure and passed out alone on the kitchen floor. He was rushed to MO BAP and admitted to ICU," Alyssa said. "He was in terrible shape, and in a lot of pain, so much that he could hardly speak. I had to go to school the next day."
Despite all of what she was going through, she still had to go to school. She explained to her teachers what was going on, and asked them to not expect her to be fully present.
"That day, he wasn't responding well. The doctors put him into a medically-induced coma; I didn't know. I was taken back. He was asleep and intubated when I walked into the hospital room," Alyssa said.
Later, he was taken out of the coma and brought home to rest in the comfort of his family.
"My mom and I were holding his hand, crying," Alyssa said. "And then he just—took his last breath."
Support from family and friends helped her get through the days that proved themselves difficult. Many of her teachers, coaches and peers came to the viewing to let her know that she was not alone.
Erhardt is not the only student who has lost a parent recently. According to sophomore principal Jenn Sebold, around eight students have lost parents in the recent years.
"Annie's Hope is a grief support program that counselor Jennifer Spotanski ran when unfortunately, there was a need for it," Sebold said. "A few years later, because there were not as many parent deaths, there wasn't a need for it so they took it away. But now, I think there is certainly a need for it and it would be valuable."
Not only does the staff see this as a good idea, but so does Erhardt.
"I think it would be fantastic," Erhardt said. "It sucks having to go through it by yourself, and having a support group makes it so much easier to deal with."
Alyssa said that her friends were always supportive, even if they didn't know what to say.
"At first, I tried to reassure her that everything would be ok," Lafayette high school junior Kate Buren, Erhardt's friend, said. "As it got worse, I tried to just be there for her so if she ever needed someone to talk to, I was there."
Four months later, Alyssa and her family go to grief support group every Wednesday to talk with their own age groups about what they are going through.
"When I was there, I spoke to a girl I used to be friends with. It turned out that her dad passed away a week after mine. I had no idea," Alyssa said.
Along with grief support group, Alyssa has received a lot of support from her peers at Chesterfield Presbyterian Church, one of them being Serena Duchene, a home schooled friend.
"I think what hurts her the most is thinking about all the things that he won't be able to see. Her graduation, wedding, grandkids—It's always hard to know how to comfort someone who is hurting like that," Alyssa's friend said.
Alyssa tries to keep his memory alive by remembering the little things they used to do together.
"When I think about how my dad isn't here anymore, it makes me really upset," Alyssa said. "But when I think of him as a person I smile, remembering what a good man he was."
About the Contributor
Samantha Gaddis, COPY EDITOR
Grade: 12
Years on staff: 3
Life soundtrack: "New York" by Urban Cone.
Most passionate about: Environmental sustainability.
Favorite dance move: "dab...