Alternative things to do in St. Louis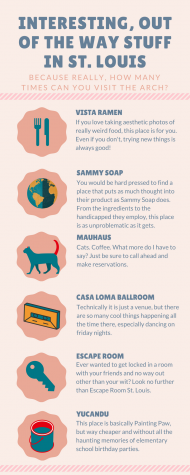 Everything is either too expensive, too far away or just plain boring. Plus, when you google "cool things to do in St. Louis" all of them are either the arch or the Zoo (I'm not trying to diss either one, but there are only so many times you can ride a tiny, egg-shaped elevator to the top of what is essentially just a very weird shaped building.)
Instead of you trying for hours on end to find something to do, we at the Pathfinder have compiled a list of things to do in St. Louis that are somewhat out of the way West County bubble we tend to live in.
---
Vista Ramen (2609 Cherokee Street  St. Louis, MO. 63118)
If you love trying odd and new food, Vista Ramen is the place for you. As the name implies, they are a restaurant that opened initially as just a ramen shop, but evolved into an odd little restaurant that sells things such as lemongrass basil ice cream and grilled octopus.
The atmosphere is that of a bar, and the outside of the store is entirely unassuming. However, once you get in there it smells heavenly, and for some reason everything is green; there's plants everywhere, each dish has green in it and there's a giant flickering neon sign that basks every seat in a green glow. I love a good aesthetic food pic, so I didn't even have to try the food to love the place. However, the food was unlike anything I have ever tried before. I ordered the basic Vista Ramen dish, but I actually liked my mom's Kimchi Pancakes more, so don't limit yourself when you go there.
The menu changes every season, so there's no excuse not to go at least two times a year, if only just to see what new things they have. If you're still a little weary of the odd food choices, their website has the entire menu and reservation details on it. For lovers of ramen and trying new foods, this is the place to go.
---
Sammy Soap (123 W. Argonne Dr., St. Louis, MO 63122)
Sammy Soap, located just off of Kirkwood and Big Bend, is one of the only places around that you can get soap and be assured that it is the least problematic soap possible. All of their products are vegan, fragrance free and made without any synthetic materials such as petroleum and artificial dyes. In addition, they are cruelty free and safe for children, pets and waterways.
As if that wasn't enough, they make it their mission to employ adults with intellectual disabilities to make the soaps. They "exist in support of human health, a clean planet and disability wage equality" according to their website, and if you don't think that's the coolest thing ever I don't know what to tell you. Their storefront even doubles as the factory, so they teach free classes on how to make your own soap.
Support this phenomenal company in all the good work they're doing for our community in St. Louis, and buy some soap. Who doesn't love soap?
---
Mauhaus (3101 Sutton Blvd, Maplewood, MO 63143)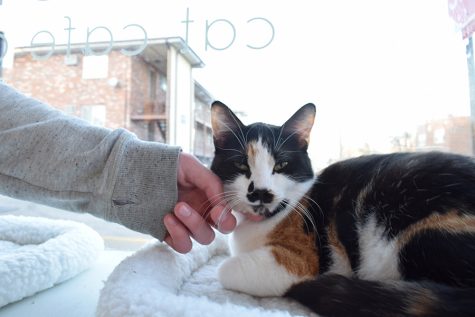 Mauhaus, the first permanent cat cafe in St. Louis, opened Nov. 12. Cat cafes serve food and drink like any other cafe, but with the addition of several cats that visitors can interact with.
Not only are these cats cuddly, playful and just darn cute, but all but all the cats at Mauhaus are adoptable, except for the cafe's two permanent residents. Mauhaus is partnered with Tenth Life Cat Rescue, a cat rescue organization in St. Louis, and in that partnership, Mauhaus received the cats who currently reside in the cafe and live being petted and played with daily.
The combination of my two favorite things (sugary pastries and kittens) made the trip so rejuvenating. I would highly recommend the trip to any other future cat ladies (or men)!
---
Casa Loma Ballroom (3354 Iowa Ave, St Louis, 63118)
Resting on the South side amongst various ethnic restaurants, storefronts and hangouts stands an 85 year old ballroom: Casa Loma. On all weekends, this place is hosting a plethora of different events, whether it be wrestling tournaments or a wedding reception. But it is most renowned for the authentic swing dancing nights. They host everyone and in between from small upswing bands such as Ms. Jubilee and the Humdingers or Sweetie and the Toothaches, to traditional big bands like Penn Slim Blues Band or the St Louis Big Band.
My first trip to Casa Loma was for swing dancing, and I absolutely loved it, and have continued to go back multiple times since. While cliches about commercial atmosphere are things to generally be avoided, this place truly has an awesome atmosphere because everyone who goes gets into dancing. That, in combination with the historic building and the music, makes Casa Loma one of the best places to visit outside of West County.
---
Escape the Room St. Louis (1201 Washington Ave, St Louis, 63103)
Relatively new to the St. Louis area, breakout rooms are the new it thing to be doing. The concept is simple: you are locked in a room in a group of eight to 12 people (depending on the room) and you have one hour to get. Isn't that illegal? I'm glad you asked‒no, you sign that away in a waiver.
While these rooms aren't claustrophobe-friendly, the 60 minutes in there are tons of fun. You get to experience every James Bond/Mission Impossible/action thriller escape scene you've ever seen with the enjoyment of figuring out the puzzle yourself. I've only escaped one room, and doing it with my friends is the one of the best things I've done with them. Would definitely recommend.
---
Yucandu (20 Allen Ave, Webster Groves, MO 63119)
Want a cheap yet fun art studio? Yucandu (pronounced "You Can Do") offers an open studio for artists to work for only $4 an hour or $12 a day. The studio has a range of tools and materials to work with. When I went, I bought wooden letters to paint and hang in my room. They have items such as charms, picture frames, mosaic tiles and paper available for only a few extra dollars. In other words, customers do not need to bring anything to work on to this studio—except maybe a little creativity!