Students and teachers travel out of country during winter break
Cancun, Mexico with Colleen O'Toole, Kristen Collins and Valerie Townsend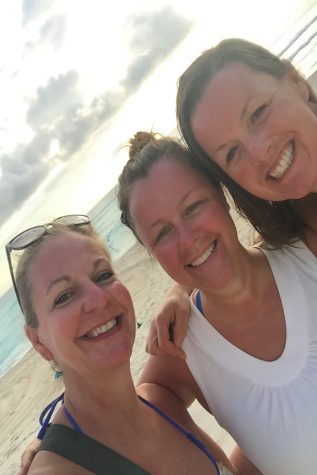 After 16 weeks of teaching, science teacher Colleen O'Toole, social studies teacher Kristen Collins and English teacher Valerie Townsend headed to Cancun, Mexico for five days.  
"We sat on the beach. We weren't going there to experience the culture since it was a short trip, and we were exhausted. We got up early, ate breakfast and sat and walked on the beach. No significant others, no children, just three teachers," Collins said. "We didn't watch TV and didn't have access to social media. I really liked to truly get away and to cut off and I felt like for five days I was completely cut off."
The trio spent everyday at the beach, relaxing and seeing the same view all day.
"The waves hitting the beach from the vantage point of my lounge chair was a beautiful sight," O'Toole said.
Along with rest and relaxation, O'Toole, Collins and Townsend also enjoyed the local cuisine on their vacation. While O'Toole was adventurous with her eating, Collins played it safe.
"I didn't try any new food. I caught Montezuma's Revenge a couple times when I have been in Mexico [otherwise known as traveler's diarrhea]. I haven't drank the water, but because I've eaten something like lettuce that has been rinsed in the water, I have become violently ill the past two times I've been to Mexico," Collins said. "I was very conservative and we stayed at an all-inclusive resort where the food is notoriously not very good, so I ate a lot of fruit and vegetables."
South India with sophomore Bharat Sreekishnavilas
Bharat Sreekishnavilas celebrated the New Year five and a half hours ahead of St. Louis as he traveled across the world to South India for two weeks with his family.
"We try to go once every year just so we get a chance to see our family," Sreekishnavilas said. "My favorite memory was relaxing on the porch of my grandparents house with my cousin. It was so serene because they live out in the countryside, which is basically a rainforest jungle in the area I went to. I got to hang out with my cousin whom I hadn't seen for over a year."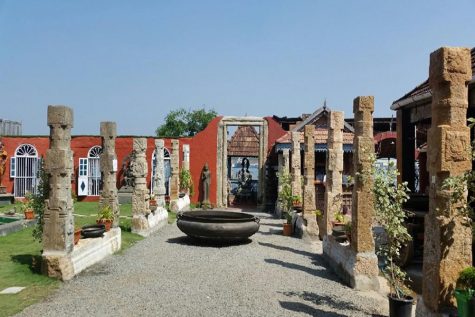 One of the highlights of Sreekishnavilas' trip was visiting Fort Kochi, one of the places Portuguese explorer Vasco da Gama visited.
"Fort Kochi represents a cool turning point. It was one of the first places touched by Europeans. It was an area of huge Portuguese influence and home to the oldest synagogue in India," Sreekishnavilas said. "I saw the beach and the ports. Because it was such an important port in the Indian Ocean trade network, there was a really cool blending of Indian, East Asian, European, East African, and Arabic culture."
Currently, India has a population of over one billion people.
"Because of the high population, India is kinda a dog-eat-dog place, but at the same time, there's a sense of family amongst all the people," Sreekishnavilas said.
Argentina and Chile with junior Vaishali Shah and freshmen Anjali Shah
For two weeks, junior Vaishali Shah and her sister, freshman Anjali Shah traveled to Argentina and Chile with their parents where they hiked the Patagonia mountains including the Three Towers, Los Cuernos and the Bariloche.
"On the fourth day, we did a hike to the towers. It was a really long hike, we started at 6 a.m. and got back at 7 p.m.," A. Shah said. "It was super cloudy the whole day and we couldn't see at all, so we thought we wouldn't see the towers. But when we got there, there was a crystal clear blue lake and the clouds had cleared up for about 20 minutes. The towers were these three grey peaks that looked like skyscrapers. The clouds were spiraling in and out of them. I've never seen anything like it and the experience of being in the clouds was surreal since clouds were all around you."
From pouring rain to sunshine to 110 mph wind, the Shahs had to prepare for the sporadic weather.
"I had to pack everything from raincoats, windbreakers, scarves, long sleeves and hiking pants to shorts and t-shirts," A. Shah said. "One day, it was super windy with 110 mph wind which made it really hard for us to hike because we could barely stand up straight and the only thing keeping me grounded was the hiking poles."
By using crampons and hiking poles, the Shah sisters fulfilled their goal of glacier hiking in the Patagonia mountains.
"My favorite memory was walking on a glacier. We got crampons and for some reason I always wanted to put crampons on my shoes." V. Shah said.
Besides glacier hiking and seeing mountains, the sisters also spent time on the beach, surrounded by mountains and freezing water.
"Anjali and I ran on the beach, but it was pretty hard with hiking poles and I almost hit her in the face," V. Shah said. "We dared each other to see how long we can stay in the glacier water, but if we stayed in there for seven minutes, we would die. I was only able to stay in there for 45 seconds since it was 32* or colder and hurt."
With Patagonia's goal being to preserve the wildlife, A. Shah learned more about the mountains and wildlife throughout the trip.
"There's pumas, unfortunately we didn't see any, guanacos which are basically llamas and these huge Andean condors," A. Shah said. "At Patagonia, there's a lot more respect for nature. The national parks here have a lot of graffiti and are kind of damaged, but there, their main goal is preserve everything. At the ecocamp, it's all eco-friendly because their goal is to keep it that way. Everyone who works there wants to keep it the same way and not deface it."
About the Contributors
Gabby Leon, STAFF WRITER
Grade: 11
Years on staff: 3
Life soundtrack: "Breaking Free" from the High School Musical soundtrack.
Most passionate about: "Bullying and racism/discrimination....
Anjali Shah, Staff Writer
Grade 9. Interests include running, debating, drawing and painting.

"To see the world, things dangerous to come to, to see behind walls, draw closer,...