Chryssi Magee places first in the Incredi-Bowl of Ice Cream
Vanilla, rocky road, mint chocolate chip—ice cream comes in an abundance of flavors.   Using her creativity and talent to create a new and tasty flavor, senior Chryssi Magee competed at the Incredi-Bowl of Ice Cream competition at Forest Park Community College on Nov. 12. Magee placed first in the People's Choice portion of the competition.
Each competitor had to come up with their own flavor and make the ice cream themselves. Magee made gooey butter cake ice cream, a cake batter ice cream with gooey butter pieces and a cream cheese swirl.
"I wanted something that really screamed St. Louis tradition and everybody loves gooey butter cake, so I thought I would give it a shot," Magee said.
The winner was voted on by people who paid to come and try the ice cream. Each person received three chips to vote on their favorite flavors, and the proceeds benefitted local culinary arts students at Forest Park Community College, South Tech Culinary High School and Culinary Academy of St. Louis.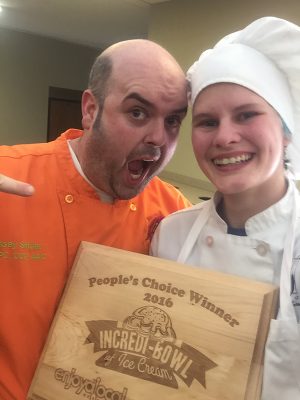 "It was the best feeling ever," Magee said. "Especially since I was competing against college culinary students. I got over 100 votes."
There were 29 participants; 19 college students and 10 high school students.
"I found out about the competition through South Tech. I'm in the culinary program and my teacher asked us if we would be interested in participating in the competition," Magee said.
Magee started the South Tech culinary program her junior year because her friend, Hank Peck was in the program and recommended it to her.
"I have eaten quite a bit of her leftover food she's made. It always tastes great," Magee's boyfriend and senior Justin Best said. "I really admire her determination to make cooking into a career."
Magee plans to attend a culinary school after high school, but she is unsure where.
"I've always loved helping my mom cook dinner when I was younger and then I discovered when I was in my early teens that I loved baking," Magee said. "I knew I wanted to pursue a career in the baking and pastry field, and now I'm almost done with high school and I still love it."
About the Contributor
Ellie Widowski, Staff Writer
Grade 12. Interests include movies, music, basketball, golf, spending time with family and friends. "I'd rather be hated for who I am, than loved for...