This is Halloween
St. Louis transforms into Halloween Town
"What should we do this this weekend?"
"We should do something for Halloween!"
"But what?"
If this sounds like your friends, then you aren't alone. Now you don't need to drive around St. Louis aimlessly in search for something fun to do; I have found the coolest events going around in town that you can do to make the most of the Halloween season.
Fright Fest
Six Flags
Have you ever wanted to ride Batman after dark? Or be chased through a dark corridor by men carrying roaring chainsaws? How about wandering through a dark room with monstrous creatures leaping out at you at each turn? If you think you can take the terror, Fright Fest is an annual transformation into a haunted version of Six Flags St. Louis, which has become a tradition for groups of friends to visit and explore. There are six different mazes or haunted houses that come with an additional fee, and four scare zones where monsters have reclaimed the park. I highly recommend reading the FAQ on this page before attending, as it warns that boyfriends and girlfriends may be eaten, but "it depends how full we are after we finish eating you." And one last warning from the FAQ for this haunted park:
        Q: Which ride is the least scary?
        A: The one to the park.
Haunted Laser Tag
This year when the spooky season rolled around, Sports Fusion transformed their usual castle-themed laser arena into an abandoned power plant full of monsters, zombies and ghouls. You can attend Friday and Saturday nights in October for the price of only $7 per player.
Haunted Corn Maze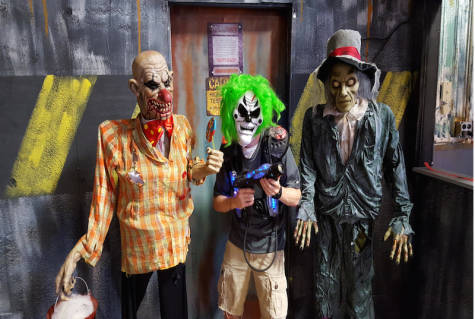 Corn mazes are a staple to fall fun, and if you are brave enough, Red's Corn Maze Massacre will lead you through a number of twists and turns with terrifying surprises. This will not be a short adventure either; the property run
s over 20 acres of land. For the lighter of heart, Brookdale Farms Corn Maze, which is at the same location as Red's Maze, is the largest corn maze in St. Louis. While Red's Maze is exclusively at night time, Brookdale is open during the daytime and does not have any of the jump scares the haunted maze has. Along with the corn maze, visitors can stop by the adorable farm animals and fire pumpkins from a pumpkin slingshot.
Boo at the Zoo
Boo at the Zoo is a twist on the St. Louis Zoo's "Zoo Lights" held during the holidays. Visitors can make crafts and play games at areas scattered around the park. While the zoo normally closes after sundown, animals can be seen by the public until 8:30 p.m. This does not exclude the Herpetarium where the zoo invites its visitors to "practice your Parseltongue with the resident members of Slytherin."
St. Louis Zoo
Lemp Mansion
In downtown St. Louis, in a white brick house with black windows, a real life haunted house stands ready for its visitors. The Lemp Mansion was home to four suicides in the late 1800s, and visitors have spotted their spirits still wandering the home. Guests can stay the night at the house, which is part restaurant, part inn. Visitors can also take ghost tours and try to find the ghosts for themselves.
 Pumpkin Patch
Have you gotten your pumpkin yet? If not, make sure to stop by Eckert's and visit their pumpkin patch. It may be quite a drive out there (one hour from the school), but blasting Halloween tunes will be sure to make the trip go faster. A quicker drive might be to Rombach's Farm, which is only 20 minutes from the high school. On the weekends, they have hayrides, face painting and children can ride ponies.
Mochas, Lattes and Frappucinos
If you still have not visited a Starbucks to get a taste of the exploding flavors of fall, make sure to make a pit stop there later today. Of course, their infamous Pumpkin Spice Latte has returned, but two other fall drinks are here that people often overlook. Their new drink, the Chile Mocha, combines cocoa, cinnamon and vanilla. Their Salted Caramel Mocha Frappuccino has also made a comeback from last year, which is a mix of mocha and toffee nut flavors.
The Best Halloween Event
If everything else on this list has failed you with getting you in the Halloween spirit, then there's only one thing that can trump all the haunted houses and spooky decorations: trick-or-treating. Do not feel too old to go around the neighborhood. Chances are, if you dress up in a decent costume, then people still give you candy. If you don't want to "ruin your image," you can always take along a younger sibling or cousin who would be more than happy to tag along. But what might be even better than traversing the neighborhood for candy is staying in and watching scary movies in between handing out candy to little vampires and Frankensteins.
Whatever you end up doing this Halloween, make sure to stay safe and have fun.
Happy Halloween!
About the Contributor
Sydney Kinzy, PHOTO EDITOR
Grade: 12

Years on staff: 4

Life soundtrack: "Borderline" by Tove Styrke.

Most passionate about: "It breaks my heart that so...