Sophomore Maddie Cooke goes to Nationals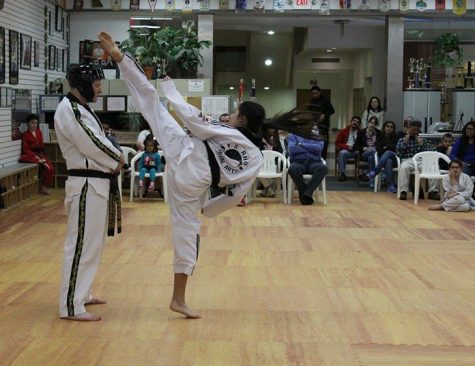 Looking out from her hotel balcony this summer, sophomore Maddie Cooke could see the Broadmoor World Arena in Colorado Springs, CO. This was the site for the 8th Annual U.S. Open Taekwondo Hanmadang where Cooke and her teammates competed against other students in their division.
Cooke competed against students ranging from ages 12 to 17 from all over the United States. She completed a number of challenges, one of them including board breaking.
"Breaking is so much harder than the other categories because you have to be spot on in that one square of board," Cooke said. "I see the best of people, including sometimes myself, mess up on it."
Aside from breaking, Cooke completed forms, a traditional routine done in pairs or groups. Each pair is graded on their synchronization, as well as accuracy of moves. Cooke and her sister competed as a pair for team forms together.
"A month before, we kept fighting. When you do a form, you have to be perfectly in sync, so it was really stressful together,"
Cooke said. "But my master was really smart. He said, 'It's not about individual, it's about together. They won't care if it's perfect. They'll care if they know that you don't want to do it together.'"
"My master told me, 'It's not about individual, it's about together. They won't care if it's perfect. They'll care if they know that you don't want to do it together,'" Cooke said.
As time led up to the tournament, Cooke said that they started working as a team rather than individuals.
"In the line, right before we had to go, we were really excited. We had real team spirit and we said to each other, 'We've got this'," Cooke said.
The girls placed first in their division. "It was fun because we did it together and we won together," Cooke said. "It was nice because we brought home the most gold, and we were representing our school, all the way from Missouri."
Cooke started the sport when she was eight years old. She danced when she was younger, but when she reached the third grade, she wanted to try something new.
"I wasn't very interested in [Taekwondo] until about seventh grade, when it started to get competitive," Cooke said. "There were a lot of girls my age who did it, and overtime I've made a lot of friends from all over the country."
Abby Flynn, a competitor and attendee of YS Rho Taekwondo, hangs out with Cooke in and out of the dojang.
"She's taught me a lot about fighting, but she's also a very close friend of mine," Flynn said. "She's also pretty terrifying to spar. She's knocked me in the face a few times."
Although Cooke's peers recognize her as a fierce competitor, her sportsmanship is equally commendable in their eyes.
"She always recognizes everyone else she competed with, congratulating them on a good job, or at least comforting them with positive thoughts if they didn't do so good," YS Rho attendee Joe West said.
Her friends are not the only ones who think she's a good team player. So does YS Rho Taekwondo; they made her the captain of the demo team.
"She's an authoritative leader, but she's also a team player; willing to do what's best for the group as a whole," YS Rho student Alex Kang said.
About the Contributor
Samantha Gaddis, COPY EDITOR
Grade: 12
Years on staff: 3
Life soundtrack: "New York" by Urban Cone.
Most passionate about: Environmental sustainability.
Favorite dance move: "dab...