Lacrosse team travels to Kansas City
The girl's varsity lacrosse team left school after first hour for the Stars and Storm Invitational tournament in Kansas City, MO, April 22.

The tournament was hosted by St. Teresa's Academy and Notre Dame de Sion. There were seven teams competing.
"Overall, we did pretty well. We started out rough with our first game, losing against Cor Jesu, but I'm proud of how we played the rest of our games," junior Kaleigh Riggs said.
During the third game, the team was down by five against Shawnee Mission, but came back and won 10-9. Junior Ava Larsen scored the winning point in the last minute.
"It was a really good win," Larsen said. "Everyone worked together and we felt a huge pay off from it."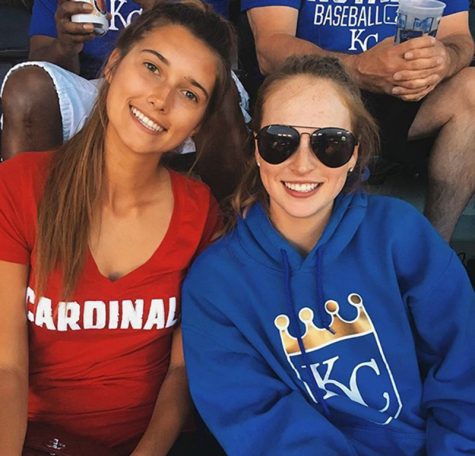 In addition to playing lacrosse, the team had time to bond with each other throughout the trip.
"The bus rides were really fun. We played a lot of music and had dance-offs. I even did the worm to the song 'Feelin' Myself' by Nicki Minaj," Riggs said.
Some highlights of the trip included shopping, eating out and attending a Royals game.
"We all wore Cardinals gear to the game. We got some pretty weird looks but it was funny," Larsen said.
Last season, the team traveled to Indianapolis for a tournament.
"Kansas City was 100 times better than Indy. It was all rainy and cold last year. We lost most of our games and we barely did any bonding activities. It was so much more fun to spend time with my teammates with the nice weather," Saake said.
The girls returned home mid-afternoon on Sunday.
"I had a great time on the trip. The fact that we worked together well and had a fun time doing it was my favorite part. The only downside was I got fried while playing and now I have goggle tan lines," Riggs said.
About the Contributor
Ellie Widowski, Staff Writer
Grade 12. Interests include movies, music, basketball, golf, spending time with family and friends. "I'd rather be hated for who I am, than loved for...