Students endure hailstorms to get to Prom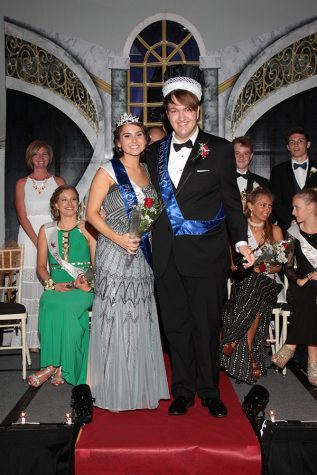 For six years, prom was located at the Kemp Auto Museum. After its unexpected closure the night of prom, Prom 2016 was relocated to Doubletree Hotel in Chesterfield, where students fought through unexpected hail storms to get to the dance. However, this did not stop senior Katie Bowen from attending her last prom.
"We were driving to the dance and we got caught in the hail storm. It was so scary and hard to see! Thankfully we made it there, but we got a little wet on our way in," senior Katie Bowen said.
At the Doubletree, students dined in a large room banquet room and later entered a circus-like tent outside for dancing, a candy and dessert bar and a photobooth.
"I really liked the change in location. The tent was pretty cool, and to me it was a lot nicer than Kemp. Overall, this new venue was better," senior Hasan Baig said.
At 8:30 p.m., students began walking to the tent for the dancing portion of the night.
"I think the DJ did a good job of playing well-rounded music that everyone enjoyed listening to. When they played 'Sweet Caroline' everyone went nuts," Ferretti said.
In addition to the change in venue, another notable difference was the variety of dessert options.
"The candy and dessert bar were my favorite part of the whole dance," junior Demi Ferretti said. "I absolutely love sweets. If I could replace all my meals with desserts I would. The brownies were my favorite."
The candy bar was set up in the tent near the dance floors. There was a large variety of candy and desserts including brownies, Blow Pops, gummy worms, Starburst and Skittles. Bags were provided so students could fill up a bag to take home.
"I really liked the way dessert was set up. I brought home like five bags of candy," Bowen said.
There were two photo booths set up in the tent. One was where a normal picture was taken with background of longhorn logos. The other booth was called the Fisheye Fun photo booth where students could use different props and pose with their friends for a less formal photo.
"I thought the photo booths were a really good idea. If you didn't want to dance it gave you something to do. Also, they printed the photos out right away so we could take them home," Ferretti said.
At 9:45 p.m., coronation began and Prom Court.
"I was honored to be voted on Prom Court. I was pretty surprised, but it was a cool experience," junior Drew Seers said.
In the end, senior Mariel McMindes and senior Tristan Johnson were crowned prom king and queen.
"I was really surprised I was crowned queen. I thought for sure any of the other girls up there were going to win. I didn't know how to react, but I was smiling so hard and I was really happy," McMindes said.
Johnson and McMindes danced together to the song "Classic" by MKTO.
"Prom ended up being a lot more fun than I thought it would be," Ferretti said. "Usually, everyone looks forward to the parties after dances, but I had a lot of fun at Prom. It was awesome dancing with my friends and I didn't want the night to end."
About the Contributor
Ellie Widowski, Staff Writer
Grade 12. Interests include movies, music, basketball, golf, spending time with family and friends. "I'd rather be hated for who I am, than loved for...