Cafeteria transformed for a night of Jazz showcases
Soft lighting, fine linens and centerpieces will adorn the cafeteria on the evening of March 8 as the choral and instrumental Jazz ensembles take the stage for their fourth annual Coffee House performance.
"It's not a traditional choral concert. This genre of music is different and the setting is different. It's not a concert hall setting, it's more of an informal setting, like at a bistro. I think the biggest difference is the relaxed atmosphere that it creates," Choir and Ensemble Director Brian Parrish said.
The Jazz Choir, Studio Jazz Choir, the Jazz Band (Cosmic Latte) and Studio Jazz Band will all be featured.
"This performance is special because it's not just the Jazz Choir performing. You get to hear Cosmic Latte and the underclassmen in Studio Jazz, which is really cool. There will also be coffee and food for free," senior Jazz Choir member Alex Hubbard said.
Parrish aims to make each concert experience unique.
"I learn from everything I do, and I rarely do things the same. It's like you've just climbed a big mountain, you learn from it. And these kids will too. What's great is that we have freshmen through seniors performing in this. The younger kids get to see how the older kids have done it, so they can do it next time around," Parrish said.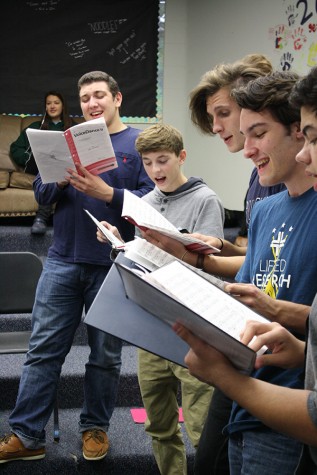 Senior Connor Gately, who has been perfecting his technique in Jazz Choir for the past two years,  finds it challenging to transition from classroom singing to performing on a microphone in front of an audience.
"You think you know the songs well, and then you get on the mics and every mistake is amplified. But that's just another thing that's going to make us that much better. We've been trying really hard to work on the mics early and get a good group sound that's pretty balanced," Gately said.
Students plan to use the night to prepare for their upcoming tour throughout Illinois.
"To the outside ears it's going to sounds amazing, but we are going to pick up every single thing that you wouldn't even hear. This is more of our spring into the tour," senior Jazz Choir member Josh Massara said.
The night of the Coffee House, Jazz Choir will be performing "Voice Dance II," "We Kiss In A Shadow," "I Want You Back" and "Stepping Out With My Baby," in addition to the combo-backed "Haven't We Met," "Kiss From A Rose and Smack Dab In the Middle." Studio Jazz Choir will be performing "It Don't Mean A Thing if it Ain't Got That Swing" and "The Way You Look Tonight." Studio Jazz Band will be performing "Freddie Freeloader," "Blues By Five" and "Summertime." Cosmic Latté will be performing "Red Clay," "My Funny Valentine" and "Caravan." The bands together will also perform "Blue Train."
"There's probably nothing else like this. It is very unique. All the music is uniquely American music, Jazz is, and just the energy that's in that room because it's different from what we're all used to, the monotony of high school life," Parrish said.
The Coffee House starts at 7:30 p.m. The admission fee is $5 minimum at the door or three canned goods that will be donated to The Circle Of Concern.
"I'm super excited. Especially being a senior, it just makes every performance that much sweeter, knowing that this is your last time around. And this is basically like our showcase of the year, this is Jazz's moment of the year. So I'm super excited for it. We got a bunch of killer songs; we're gonna knock it out. I know we're going to do great," Gately said.