Students donate unused jeans to homeless teens
Since early January, Longhorn Council has been collecting old jeans for the Teens for Jeans campaign, headed by Science ASC teacher Susan Anderson. Their jeans will then be rerouted to a local homeless shelter where they will be put to good use by homeless teens.
"Teens for Jeans is a nationwide program with an organization called DoSomething.org, encouraging people, and especially teenaged groups, to be active and get involved in the community and be involved with different charities," Anderson said.
Donations will be serving a very special purpose to the homeless people in the St. Louis community, especially the teenagers.
"Typically homeless teenagers ask for jeans because they are able to be worn multiple times between washes, they're also warmer than some other types of materials and they generally help them fit in better in their high school or whatever school setting they are in," Anderson said.
Starting the second week of January, students, parents and faculty cleaned out their closets and dressers to fill donation bins. Special Education teacher, Lauren Perez, brought in a haul of her own.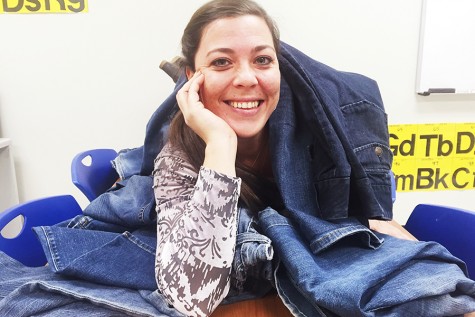 "I donated a lot of jeans, probably 20 pairs. I have like five pairs left," Perez said.
Students like senior Katie Hornsby also brought in their unused denim to put toward the cause.

"I donated three pairs of my old jeans. I love donating anything I can," Hornsby said.
Donating was nothing new to either Perez or Hornsby.  As it turns out, they are not the type to usually throw away out style clothes or garments that do not fit.
"I give most of my stuff to Goodwill or hand it down to family members, like my daughter's clothes I hand down, so I try to recycle most of my stuff and not just pitch it." Perez said.
Hornsby has her own organization that she prefers to give to.
"I usually clean out my closet three to four times a year and donate it to the Little Yellow House," Hornsby said.
In the end,  wherever the traveling jeans  go, they will end up in the hands of someone in need.
"My thinking is: Why throw stuff away when you can donate it to someone who needs it?" Hornsby said.
If you would like to donate to Teens for Jeans, you can still drop off your old jeans outside of room 1412 and in the Main Office.  Collection will continue until the third week of February.