Yess scores his 1000th Point
The Longhorn basketball team are beginning the 2015-2016 season on an absolute tear, going 11-2 in the first 13 games played. This past Friday night, Jan. 22 at 7 p.m., the Longhorns traveled to Ladue Horton Watkins High School and looked to continue their upward trend.
"The team moral starting off the season is fantastic, we are all coming together as a team and I think it shows on the court and is reflected by our record. If we can continue this kind of play I think we have a great chance against Ladue on Friday," senior Nick Lewis said.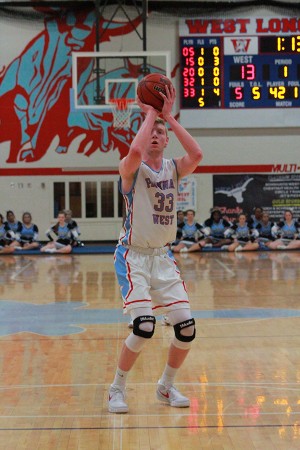 The Longhorns have relied heavily on the offensive output from their big men, junior Wyatt Yess (16.5 PPG) and senior Nick Lathrop (11.1 PPG).
"The key for me this season has been capitalizing on good looks at the hoop and not forcing anything. When I stay relaxed on the court and don't try to rush anything I play my best," Lathrop said.
The Longhorn Center, Wyatt Yess scored his 1000 career high school point on Friday.
"Scoring my 1000 point last friday against Ladue was an amazing feeling and a huge honor, and getting the win to go along with it was even better. It is definitely one of the most, if not the most memorable game that I have played in my basketball career," Yess said.
The Longhorns came out victorious against Ladue with Yess leading the charge with with two steals to go along with his 18 points.
"Turnovers were the key for us on Friday, I think we forced about 10 of them, which is a huge boost in any game. To me, that was the deciding factor, especially because we were able to capitalize and turn those turnovers into points on the other end," senior Henderson Faulkner said.