Weekly traditions gain momentum in the science wing
It is a common misconception that Thanksgiving is the only holiday in November. Science teacher Amy Van Matre-Woodward has made it her goal to create a holiday for every day of the week.
"I would like to have a holiday for every day, just to give all sorts of different people the chance to participate and look forward to different days for different reasons," Van Matre-Woodward said. "People like different things, and I think these holidays really encourage exploring your interests."
The holidays originally started with High Five Friday, but spread out to include two others.
"There are some other minor holidays that I've created, one of which is more like a club. There's Chaco Tuesday, for those who enjoy wearing Chaco sandals.Then there's also Tea Time Thursdays— that's kind of a small get together for those who enjoy tea beverages," Van Matre-Woodward said.
Tea Time Thursday began when students approached Van Matre-Woodward about creating a time to talk about different types of tea. Since then, it's developed beyond just drinking tea into a time for students to relax.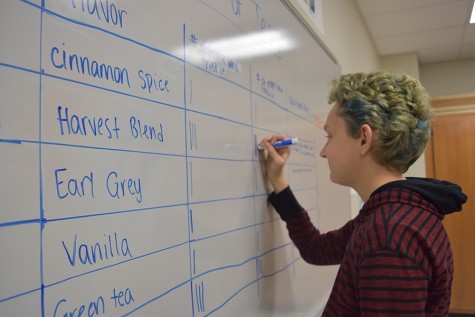 "I really like going to Tea Time, not just because of the tea, but also because of the social side of the holiday. I get to take time out of my week to just sit down and talk to my friends. Normally I get to say hi to them before school, but at Tea Time we get to have deeper conversations, like last week when we debated the best way to draw a giraffe," freshman Bella Rogers said.
There is now a system for distributing the tea, as in the early stages of Tea Time students were having difficulties.
"Tea Time Thursdays have been really picking up. The first few times it was a little chaotic, but now students have to bring their own mugs so that they can have some tea. You can't have tea without mugs," Van Matre-Woodward said.
Van Matre-Woodward's second holiday is Chaco Tuesdays. While this holiday has a smaller following than Tea Time, it has a much more intricate backstory.
"Kristin Priest and I were talking in Ms. V's class one day, and she was drawing pictures of me with Chacos on, and we thought that it should be a holiday. Ms. V was kind of dismissive of the holiday at first, but after we hung up the picture Kristin drew on the board, people starting asking about the holiday," freshman Harper Stewart said. "Finally she realized it's a legitimate holiday, and now every Tuesday is Chaco Tuesday."
Chacos are a sandal that's coming into fashion, and although the temperatures are dropping, people are still wearing the shoes every Tuesday.
"A lot of people wear them, and it's fun because you see each other in the hallway and stick your foot up. We don't have an official meeting time like Tea Time Thursdays, but we still acknowledge each other," Stewart said.
As for the other two days of the week, discussions are still taking place for what should fill the empty slots.
"We've talked about Meatless Mondays and Workout Wednesdays, but nothing solid. Nothing I can be too loud about yet," Van Matre-Woodward said.
The problem is not lack of ideas, however. Multiple students, including Stewart, had holiday ideas, ranging from Coffee Mondays to a book club during lunch.
"It would be cool if Ms. V just chose a book for us to read and we come in and drink our tea and hear her talk about the book because she's just a funny person. When you hear her talk, you just laugh, even if she's serious," Stewart said. "So I think I would do a book club of sorts, even though it's not really a holiday."
Even though students love the fun side of the holidays, there is an underlying purpose of the holidays that Van Matre-Woodward and students urge people to see.
"The holidays give everyone a sense of a community," Stewart said. "Kind of like in high school musical, where they just break out and dance together, except we're all breaking out our tea mugs and Chacos."
About the Contributor
Dani Fischer, MANAGING EDITOR-IN-CHIEF
Grade:  12

Years on Staff:  4

If you were a fictional character, who would you be?  Biggie Cheese

Does the toilet paper go over or under on...