Swinging to State
The Missouri State Tennis Tournament begins in Springfield, MO, today. For the second time in a row, West will be sending their top-ranked doubles team to the competition. Last time, it was alumni William Tong and junior Kenji Yanaba. This time, it will be juniors Claire Martin and Ava Larson playing for their own state title.
"I'm excited since it is my first year achieving state. It was my goal for this year. I am a little nervous because there will be tough competition there, but I feel like we have a good shot at getting pretty far," Martin said.
To prepare them for the experience, Coach Jason Townsend prepared drills for the duo.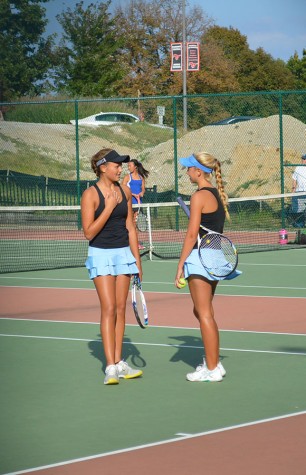 "We like to utilize some of the players from the boys teams. Kenji Yanaba and I work together to push them in drills and in practice matches. It's hard sometimes to challenge Claire and Ava in practice because they are our top two players," Townsend said.
However, tough practices are not the only thing that have gotten them this far.
"There is a big difference between being prepared and match-ready. You can practice all you want, but if you are not mentally prepared; it doesn't matter," Martin said. "The only way to become truly match-ready is to compete in tournaments. You must learn to play the mental game as well as the physical game."
Along with their mental preparations, both girls had improvements to make to their own game this season. For Claire, it was adjusting to a different playing style.
"I had never been a doubles player before. I had only competed in singles. Once I realized that Ava and I could go to state together though, I decided to dedicate more time to training doubles," Martin said. "The hardest part about that was getting into the mindset of doubles. I'm not used to relying on other people in the game. I had to work on doubles strategy and my placement as well to perfect our style."
Larson believes that her challenge with doubles matches lied in making improvements on the mental side of her game.
"I've gotten better at staying intense and in the zone during the game. I've also learned to stay cool and calm in tough situations and how to mentally hold it all together," Larson said.
The girls' first match is against a team from Rockbridge at 9 a.m. on Friday, Oct. 16.
"I can't say how they are going to do; but I can say that I want us to go there with a goal for first place. I think they can do it," Townsend said.