Parkour kids climb to new heights
Batman can scale walls, jump across buildings and quickly hurdle over obstacles. In parkour, people practice stunts and maneuvers similar to those in the movies.
"Parkour is split into two categories: There's free running, which is getting from point A to point B in the fastest way possible. And there's the tumbling and tricks par," sophomore Austin Valenti said. "Some standard moves are kongs and reversals off benches and sometimes people go on to benches and jump from rooftop to rooftop."
Valenti became involved in parkour after joining a class at Olympiad Gymnastics.
"I asked if they had a parkour class, and they said they had just started one a year ago, so I signed up for 10 bucks," Valenti said. "I just ended the class because I couldn't pay for it anymore."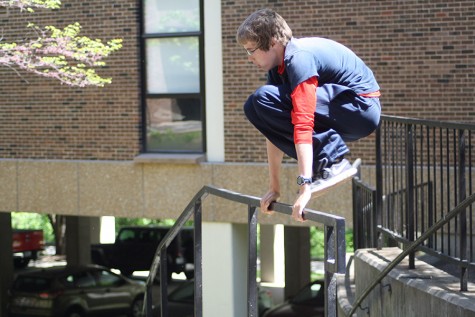 While Valenti no longer attends the class, he continues to practice parkour.
"In the class, I had a couple friends, and we still get together sometimes and go to the park or school to practice," Valenti said.
Freshman Joe Roseman, who has been practicing parkour for three years, recently started coaching the class at Olympiad Gymnastics.
"I started three years ago after seeing some interesting videos about it on YouTube. Now I've started coaching parkour at the gym where I was taking the classes," Roseman said. "At first I was afraid, but I was surprised at how fast I got used to what I can actually do."
As a coach, Roseman has learned that the style of parkour varies from person to person.
"Not everybody does the same thing – each person has their own style. So faster people normally do efficiency, point A to point B type stuff, but if you were a gymnast or martial artist before hand, then tumbling and flips would be more your area," Roseman said.
For freshman Simon Everts, parkour started out a little differently.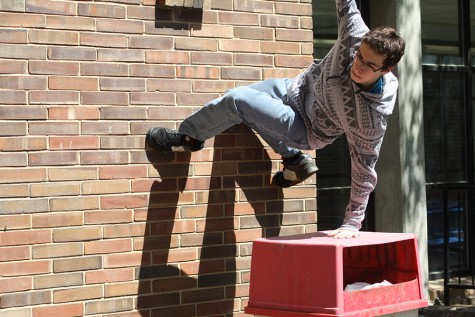 "My friends are the ones that brought me into parkour last year. I was kind of overweight then, so things didn't come to me as quickly as they did for others, but eventually I learned a few things," Everts said.
Freshman Joe Butler has been practicing parkour on his own since second grade. He believes parkour is about personal improvement.
"There's too many legal issues to starting a school club. It would be cool but it will never happen at our school. Parkour is about progressing in your own abilities, and gradually finding ways to get better, because after a while you need to get creative and find new moves," Butler said.
Activities Director Brian Kessler agrees with Butler on the legality of a parkour club at school.
"
Parkour is probably not something we'd do here at school, it's not the right place for it. There's too much liability, too much risk."
— Brian Kessler
"Parkour is probably not something we'd do here at school, it's not the right place for it.  There's too much liability, too much risk. But if it's something that some kids like to do, then it's great that they have a passion for it," Kessler said.
Roseman has different plans for his future regarding parkour.
"I definitely want to expand. It's not a very big thing right now and not many people know about it," Roseman said. "But there are a few huge gyms around the country and that's what I want to do in the future: open up a gym and become a trainer and coach at the gym."
Despite the legality issues of becoming a school club, Valenti believes parkour is still a fulfilling and legitimate hobby.
"I would encourage people to go out and try parkour, because you can do it anywhere, it doesn't cost money, its fun and you can get your friends to practice with you," Valenti said. "But practice is the most important part.  I mean, you're not just going to go out your first day and walk up a wall."
About the Contributors
Nico Stranquist, Staff Writer
Grade: 11

Extracurriculars: Soccer, Lacrosse, Chess, table tennis

What do you like about The Pathfinder? Many different topics

How would you describe...
Liza Tarakanova, Staff Writer
Grade: 10

Extracurriculars: Speech and Debate, Women of West, Chess Club, writing poems, piano, reading

ft do you like about The Pathfinder? That...