Bombs Away album review
They're coming to Lolla. There's a dude in a space helmet on the cover of their album. No, it's not 2014 and I'm not talking about Daft Punk.
Australian indie pop band Sheppard released their debut album "Bombs Away," to the U.S. March 10. The band was built on three members — siblings George, Amy and Emma Sheppard, and grew to include Jay Bovino, Michael Butler and Dean Gordon.
In addition to receiving five nominations at the 2014 Australian Recording Industry Association (ARIA) Music Awards (and winning in the category of Best Group), Sheppard also saw huge success on the charts, with "Bombs Away" climbing up to #2 in Australia and, so far, #31 in the U.S.
What sets Sheppard apart in an industry that is constantly striving to be unique is their flexibility and range. "Bombs Away" is a mashup of genres, making this freshman album appeal to a large audience. Co-ed vocals keep the songs from sounding too similar, while the acoustic guitar featured in most of the songs provides continuity. Pretty cool.
I'll call it now: "Geronimo" is the dancey, windows-down hit you want on your playlists this Summer. You'll be bobbing your head before the first chorus drops, satisfaction guaranteed. "Geronimo" also features a solid, steady drum beat, folky banjo (but not in the obnoxious way) and a wide vocal range, making it more than just another indie anthem. If you're on Spotify, you've probably heard it in a commercial.
"Let Me Down Easy" is a much more mellow tune, and Sheppard showcases their hypnotic harmonizing and lyrical ability with lines like "Your heavy heart has taken its toll / You've lost all the magic inside of your soul / So sell me a lie before you hit the road." The best thing about this song is the band's ability to combine instrumental melodies and acapella verses. It feels very Of-Monsters-and-Men-esque. "These People" has the same style.
"A Grade Playa" and "Smile" are heavy on female vocals, and pretty basic lyrically and in composition.
"This Electric Feeling" could even be described as, dare I say it, reggae and jazz at the same time. It's weird, but in a good way.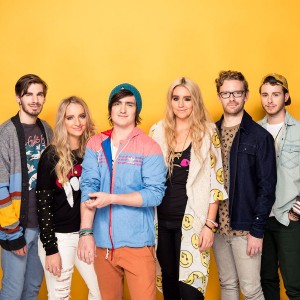 Check out "Find Someone," it's the reason they have to put an Explicit sticker on the cover. It's the token angry, bitter break-up song. If you liked KONGOS' album "Lunatic," this is for you.
Overall, I'm impressed with their ability to put together a solid, popular album in the U.S. Sheppard's chameleon sound transcends genre boundaries, and while every song may not appeal to every listener, "Bombs Away" has a little something for everyone. Timing-wise, some of the more upbeat songs are Summer-ready, while the slower songs are fairly basic, and not all that interesting. The good ones are really good; the average ones aren't.
Who's to say whether Sheppard will put a finger on their musical style in a more definitive way in the future, but for now, "Bombs Away" is basically dynamite.
The Parkway West Pathfinder gives "Bombs Away" a 7.0/10.
About the Contributor
Shannon Anderson, Editor-in-Chief
Grade: 12

Future / College Plans? Tulane University (maybe) to study either Biomedical Engineering or Environmental Science

Swag level (1-10 Scale)?...