Girls swimming continuing success
After 12 state titles, the girls swim team is kicking off the season with hopes of continuing their success with newfound goals and motivation.
"In my opinion, I feel like we are successful because we do not have just a couple star swimmers; we have a lot of people who contribute. I would say a lot of girls in my class are really strong actually like Irene Frederick. She's really good at breaststroke, butterfly and IM [Individual Medley] I'm very good at backstroke, free and basically any sprint and Megan Hitchcock is also a very talented diver," junior Kristen Petersen said.
The team hopes to win Conference and rank in top five at state. To prepare they do long distance training at practice.
"We don't just train sprinting; we also do a lot of 200s to build up our endurance and I feel like that has helped us out a lot," Petersen said.
Spending two and a half hours together after school everyday, the team became close.
"We are all really close and we are all friends; we work really hard to try and get better. We spend a lot of time together, spending around two and a half hours everyday together and plus meets so we all end up bonding together," freshman Jessica Schlueter said.
Swimmers credit their success to how close they are with their teammates.
"I swim because of the people on the team and because it's something that will help out in college. I get to hang out with not just my club swim friends, but I also get to hang out and swim with my school friends. It's more fun. We are pretty close because most of us already know each other and we do team bonding like yoga, sleepovers and going out for dinner," Petersen said.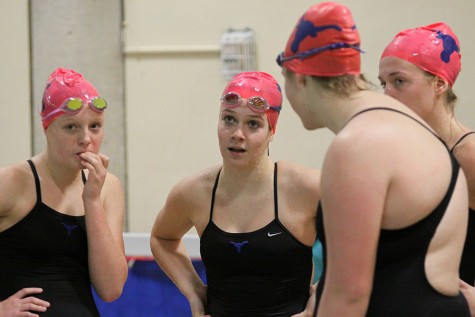 Team members believe the schools that will be the biggest competition in their conference is Kirkwood and Glendale.
"Glendale is the defending champs because they have won the last two years in a row. They are pretty good. We plan on continuing to show up to practice and not be lazy. We swam against them for our first meet and we lost but that's okay," Petersen said.
Upperclassmen on the team work to aid younger swimmers in technique and work ethic.
"The older girls really show us how to do everything and are good leaders; they set good examples for us. They helped out a lot in the beginning with showing the freshman and the  new swimmers what to do and how the practices and meets were going to work. They also set good examples and are good role models for the younger swimmers," Schlueter said.
Being on the team and having a successful record has taught Schlueter to set goals.
"When you win, it's a really good experience and if you win your race and drop time it's a good feeling knowing that you worked hard for it. Being on the team has made me realize that it is good to set goals and be motivated," Schlueter said.
About the Contributor
Kathryn Harter, Multimedia Editor
Grade: 12

Future / College Plans? Truman State University or Loyola University of Chicago

Swag level (1-10 Scale)? 12/10

Fun Fact: I can touch...