Girls Tennis swings into districts
This season, the Girls Tennis team ended their season with seven members advancing to Districts and sophomore Claire Martin qualifying for Sectionals.
"Last year Claire Martin finished third overall as an individual in the District, so this year we knew she could improve on that. Claire finished second this year and qualified for the Sectional match," coach Jason Townsend said.
During the regular season, the varsity team's record was 6-0-7, with wins against Cape Central, University City and Rockwood Summit. With the coaching staff of Townsend and Southwest Middle teacher Katelyn McCreary, the seven individuals won key matches to send them into districts.
"The biggest change was our three top freshmen from last season really improved their level of play in the off season. They were able to make major contributions to the team this year," Townsend said.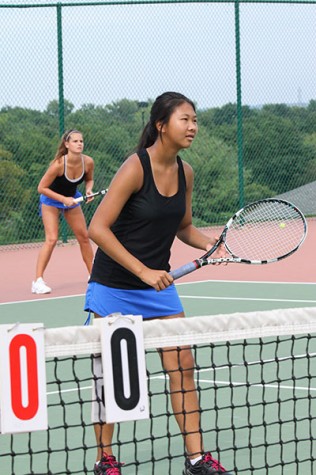 Freshman Sydnee Yap finished fourth in Districts, Martin moved on to Sectionals, and sophomores Rachel Friedman, Ava Larsen and Abby Kottmeyer qualified for Districts as well.
"We play in a very tough district, so I just wanted us to be competitive in the district team tournament, which we very much were," Townsend said.
In Districts, there are no second chances. The losing team of a match during districts is out for the rest of the tournament.
"The matches in Districts were way more competitive. Districts was different from the regular season because if you lost then you were done, but in regular season you had two chances in singles or doubles," junior Vericia Pearson said.
Once the regular season ended, Townsend introduced new drills to help the players prepare for the post-season games.
"I didn't even think we would win the first match in Districts, but we did and we went on to the second match. Then we lost to Lafayette, but I was still proud that we even got that far,"  Pearson said.
Sophomore Abby Kottmeyer played for her first time on varsity this year, one of the four sophomores on the team.
"My first goal was to make varsity, and then from there I just wanted to play my best and go out there and try," Kottmeyer said.
With two weeks of tennis camp during July, as well as clinics, the players have a variety of opportunities to work on their skills during the off season.

"I play tennis year-round and I do camps over the summer to keep up my skills," Claire Martin said.
"
My first goal was to make varsity, and then from there I just wanted to play my best and go out there and try,"
— Abby Kottmeyer
With their overall record of six wins and seven losses and having players from every grade qualifying for districts, the tennis team proved they are strong contenders for the post season.
"Overall our team had about the same level of success, but we got much more out of our younger players, which looks good for the future," Townsend said.
About the Contributor
Kyla Hatton, Sports Editor
Grade: 12

College / Future Plans? UCLA/UBC

Swag Level (1-10): Jacob Cupps

Fun Fact I can't touch my tongue to my nose.