Athlete Spotlight: Luke Christensen
Junior Luke Christensen qualified for state in the 500 meter race in swimming, surpassing the state-eligible time by 10.6 seconds. The set time is 5:07.99 and Christensen swam a 4:57.39, five seconds better than his freshman year.
"I was so happy. I worked really hard to get my goal by swimming fast at practice. I was ready to race the kid next to me who I knew was good at the 500 before the race began," Christensen said.
He qualified for state the team's meet at Lafayette on Sept. 3.
"He was racing this kid from Lafayette and beat him by three one-hundredths of a second and it was a great race. They were back and forth and in a five minute race, and for them to be that close it was very exciting. We were very excited. We knew he could and he had a great swim when he qualified," his mom and College and Career counselor, Katie Christensen said.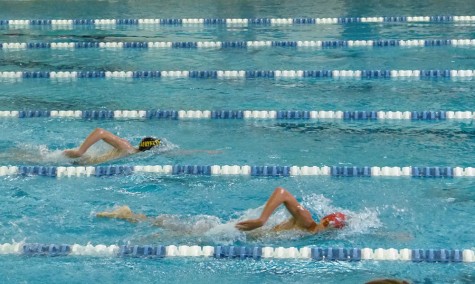 K. Christensen was present for L. Christensen's race.
"I am very proud of Luke, he wasn't extremely fast when he was younger but he has been persistent and worked to achieve what he has and i am so proud to see what he achieved now," K. Christensen said.
L. Christensen has been swimming since he was four years old.
"I hated it because I was awful and the worst in the group," L. Christensen said.
The Christensen family has been involved in swimming for over 11 years.
"It's very busy; everything revolves around swimming, practices are early in the morning and late at night, so it has a pretty big impact. He has worked extremely hard and he has put in 11 years, starting at three days a week when he was little, to nine times a week now. He works very hard for what he achieves," K. Christensen said.
L. Christensen also swims the 100m fly and 200m free for West along with the 1600m, 800m, and 200m fly for Parkway Swim Club.
"I am my biggest motivator; I set hard goals for myself in high school swimming and club and work towards them. My goal now is top eight at state," L. Christensen said.
L. Christensen was voted captain of the varsity team this season and works at practice to improve his times.
"He swims in a lane with fellow junior, Drew Bonnett, and the two of them do a great job of really pushing each other everyday at practice. Luke is a great kid.  He works hard, is a natural leader and is constantly asking what he can do to get better," varsity coach Allison Zeller said.
Zeller has been L. Christensen's coach for three years at West.
"Luke has gotten stronger each season. He is a year round swimmer and we are fortunate to have him represent his high school. Over the years, I have seen him get faster in all of his events, but more importantly, I have seen him really grow up and mature out of the water," Zeller said. "I want him to help get all three of our relays qualified for state and individually I want to see him standing on the top 8 podium at the state meet."
L. Christensen plans to continue swimming in college.
"Ideally I'd go to Florida, but they're really fast, so I'll probably end up going to Seattle University or Denver University to swim," L. Christensen said.
About the Writer
Kathryn Harter, Multimedia Editor
Grade: 12

Future / College Plans? Truman State University or Loyola University of Chicago

Swag level (1-10 Scale)? 12/10

Fun Fact: I can touch...