Longhorn Football: a new journey
The Varsity football team won their season opener 49-39, hosting Union on Friday, Aug. 22. The team is coming off a 3-7 record last season. The Longhorns feature a new schedule playing teams including Union, Afton, Warrenton, Clayton and Northwest.
"We hope to do better, based on a schedule change which allows us to compete with schools similar to our size. I am aiming for six wins this season because of the more preparation we have put into our program this offseason," senior quarterback Austin Sisk said.
The coaching staff feature four new additions, including Colin Hanna, Andy Seers, Mike  Shank and Peter Boyer.
"With the revamped coaching staff there has been a new energy in the locker room and on the field. The new coaches have been stressing attention to detail which has provided a more disciplined football team," senior tight-end Jake Seers said.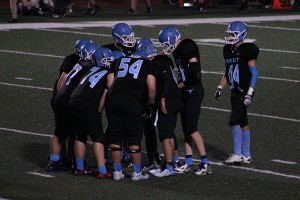 The Homecoming game is on Oct. 10, against Clayton.
"I feel like this year we have the right players in the right places, we are a more athletic team that will be able to compete with anyone," junior wide receiver Daniel Bickert said.
Senior left tackle Drew Swihart has attracted interests from Iowa, SEMO, Austin Peay, and numerous other D1 schools.
"Drew is by far one of the main leaders on our football team. He is always helping me with plays and showing me what to do. His encouragement to me, and numerous players on the team is why he is such an important asset," junior defensive lineman Landon Creemens said.
This is coach Jeff Duncan's sixth season as the Longhorn's head coach.
"I have tried to improve the process in how we do things each year.  I think each year I have been able to hire a few coaches that are helping in this process," Duncan said. "I want to continue to be a positive influence for our players.  Continue to push our players to be the best students, football players and young men that they can be.  I want our players to always focus on being great at the things that we can control.  When that happens, everything else seems to take care of itself."
The team has many new goals this year.
"Our team goals are as follows: (1) have a varsity team GPA average of 3.25 or higher (2) create an average of 2+ turnovers per game It's the attitude and buy in of the players that make teams successful.  We feel that our players this year are in the right frame of mind and they are the ones who truly turn things around in a positive direction.  We we are good … our players are good.  They deserve any of the credit that we have in our team success," Duncan said.
About the Contributor
Bobby Connor, Staff Writer
Grade:11

Extracurriculars: Varsity Football and Varsity Baseball

What do you like about The Pathfinder? What I like about The Pathfinder is the variety...